Ancelotti: Vinicius is the Most Dangerous Football Player in the World
Rabu, 24-November-2021 18:00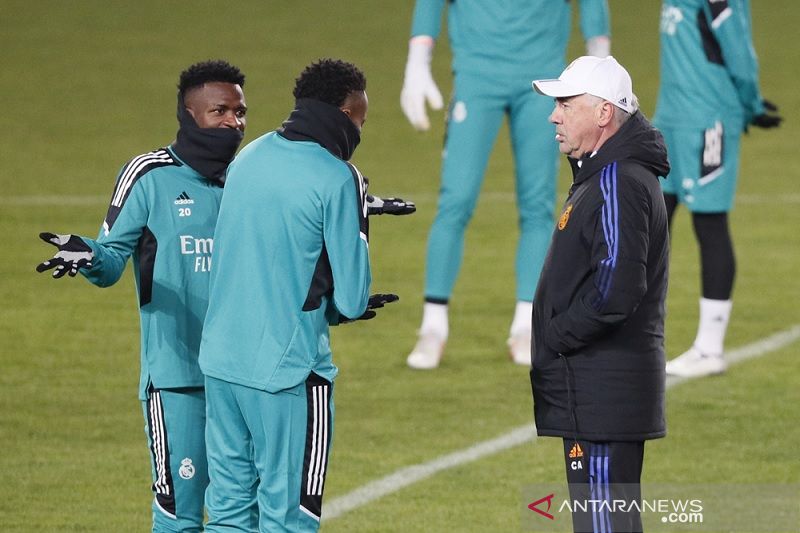 Foto : ANTARA/REUTERS/Gleb Garanich
Carlo Ancelotti (right) gives instructions to Vinicius Junior and Eder Militao during a training session.
JAKARTA, NETRALNEWS.COM - Carlo Ancelotti has called Vinicius Junior the most dangerous footballer in the world at the moment, but warned that the Real Madrid winger still had several aspects to improve.
"Looking at the way he plays, I think he is the most dangerous footballer in the world right now because there are not many players out there who can do what he is doing now," Ancelotti said to Real Madrid's website on Wednesday (11/24/2021).
"That's my opinion, of course he still has to keep improving, because one-on-one situations, for example, are one of the most important things in football."
The Italian coach believes the Brazilian talent is still growing and has a character that does not get complacent.
"I think he will because he is not big-headed and acts like someone who has won everything. He has the mind of a young boy who believes he can continue to improve," he said.
Vinicius' form has indeed been on the rise lately, even being one of the most important pieces in Real Madrid's performance in the Champions League, where the 19-year-old player scored two goals and four assists in the last four matches.
Ancelotti's contribution is certainly expected to be seen again when Real Madrid travel to Moldova to face Sheriff Tiraspol in Group D.
Ancelotti also stressed that Los Blancos must not repeat the mistakes of their shock 1-2 loss in the first meeting at the Santiago Bernabeu against the Champions League debutants at the end of September.
"We didn't enjoy the first meeting, because they beat us at the Bernabeu," said Ancelotti.
"We have to try to avoid mistakes in that game and reproduce the good aspects we did recently."
Real Madrid are currently top of Group D with nine points and will secure a place in the last 16 if they beat the Sheriff, as reported by Antara.
Reporter : turkhan
Editor : turkhan
Berita Terkait
Berita Rekomendasi