Bayern Muenchen Sinks VfB Stuttgart 5-0 in Last Away Match in 2021
Rabu, 15-December-2021 19:00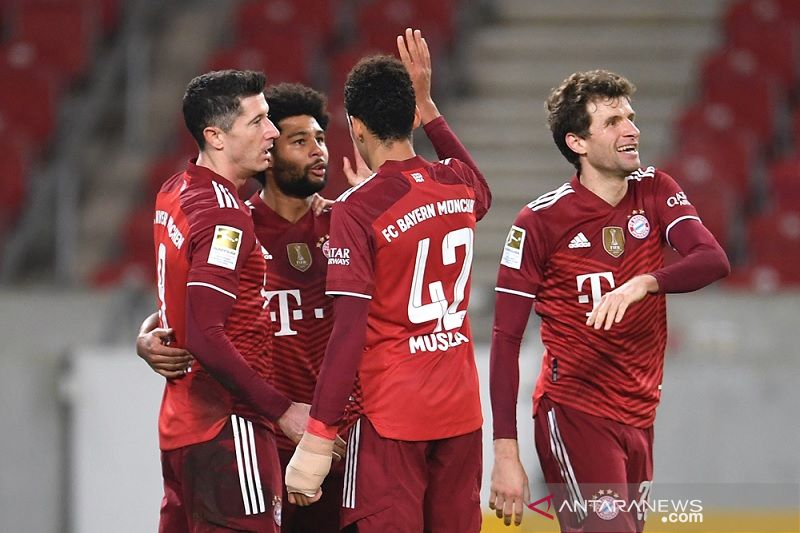 Foto : ANTARA/REUTERS/Andreas Gebert
Bayern Muenchen players celebrate goal.
JAKARTA, NETRALNEWS.COM - Bayern Munich held a goal feast in their last Bundesliga away game in 2021 by crushing VfB Stuttgart 5-0 at the Mercedes-Benz Arena Stadium, Tuesday local time.
Serge Gnabry and Robert Lewandowski became the main actors in Bayern's goal party, scoring a hat-trick and a brace each against Stuttgart, who struggled to contain their visitors' sharpness, especially in the second half.
Gnabry broke the deadlock five minutes before half-time when he calmly received a Leroy Sane cross and ending it with a curling shot that curled into the corner of the far post.
The first half ended in a 0-1 down to give Stuttgart the confidence to appear aggressive at the start of the second half. Unfortunately, their chances did not cause much trouble for goalkeeper Manuel Neuer in the Bayern goal.
Eight minutes into the second half, Bayern showed the difference in finishing quality when Gnabry scored his second through Thomas Mueller's cross to double the visitors' lead.
Stuttgart got a chance from Neuer's small blunder after making a bad pass, but the ball from Orel Mangala failed to be turned into a goal by Tanguy Coulibaly. Another opportunity that was obtained by Philipp Foerster ended up soaring over the crossbar.
Bayern extended their lead in the 69th minute when Lewandowski calmly flicked a flick over the head of goalkeeper Florian Mueller. and three minutes later the Polish striker doubled his tally on the scoresheet with a close-range finish to make it 4-0 for the visitors.
The disappointment of the Stuttgart players had not subsided, and they conceded another goal in the 74th minute when Gnabry swiftly snatched the ball in the face of the Stuttgart goal to complete his hat-trick.
Bayern actually had several opportunities to increase the margin but Julian Nagelsmann was certainly quite content to close the game with a 5-0 win over Stuttgart.
Bayern increasingly steady at the top of the standings with a collection of 40 points or nine points ahead of Borussia Dortmund, who just played a day ago.
Meanwhile Stuttgart, who had to give up their three-game unbeaten run, are stuck in 15th with 17 points, according to the German League's official website.
Bayern will then close 2021 by hosting VfL Wolfsburg at the Allianz Arena on Friday (12/17), while Stuttgart travel to FC Cologne, two days later, as reported by Antara.
Reporter : turkhan
Editor : turkhan
Berita Terkait
Berita Rekomendasi