Chelsea Ends Tottenham Hotspur's No Losses Streak with 2-0 Win at Stamford Bridge
Senin, 24-January-2022 18:00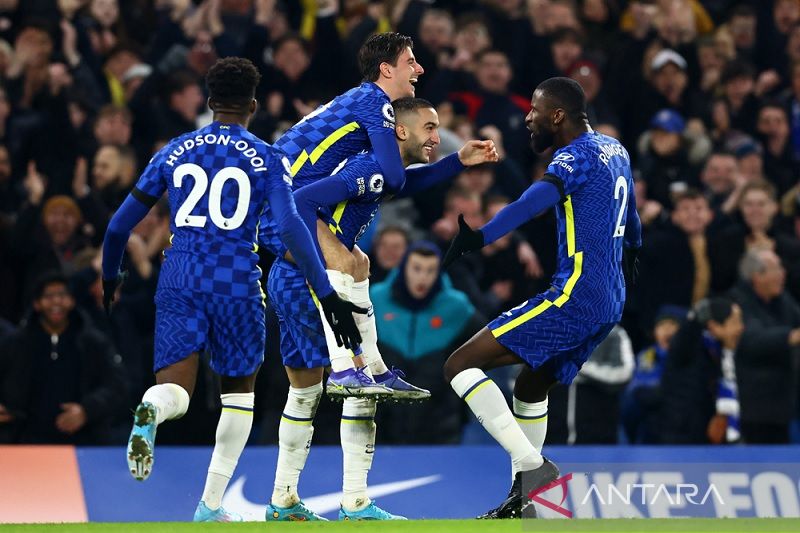 Foto : ANTARA/REUTERS/David Klein
Chelsea players celebrate goal against Tottenham Hotspur at Stamford Bridge Stadium in London.
JAKARTA, NETRALNEWS.COM - Chelsea has forced Tottenham Hotspur to suffer their first defeat in the Premier League since Antonio Conte's coaching era when they beat their visitors with a score of 2-0 at Stamford Bridge Stadium, London, on Sunday local time.
Hakim Ziyech and Thiago Silva were the goalscorers to get Chelsea back to their winning ways for the first time in five games.
Chelsea, who are in third place on the Premier League table, now has 47 points and is keeping little hope of keeping pace with leaders Manchester City, who lead by 10 points.
Meanwhile, Tottenham, who had to give up their nine-game no losing streak, ended up stuck in seventh place in the standings with 36 points after being leapfrogged by Manchester United a day ago, according to the official Premier League website.
Chelsea appeared to have more control of the game early in the match, but Romelu Lukaku and Callum Hudson-Odoi failed to get shots on target from the chances created by their team-mates.
Tottenham slowly emerged from Chelsea's pressure, and four minutes before the break Harry Kane was able to find the ball into the home net to complete Ryan Sessegnon's pull-back.
Unfortunately the visitors' celebrations had to subside as VAR conducted a review and referee Paul Tierney ended up disallowing the goal because he thought Kane had fouled Thiago Silva in the attack.
The 0-0 score lasted until half-time before changing just two minutes into the second half thanks to a beautiful goal from Ziyech to give Chelsea the lead.
Starting from Hudson-Odoi's action to trick Japhet Tanganga, he sent the ball to Ziyech, who made one touch before curling a shot that passed Tottenham Hotspur goalkeeper Hugo Lloris.
Two minutes later, Ziyech almost scored a second goal when he snatched the ball from Mason Mount's shot. Unfortunately this time Lloris was quick enough to parry the ball.
In the 55th minute, Chelsea's advantage was doubled when Thiago Silva was able to head home a free-kick that was sent by Mount.
After that, Chelsea became more and more calm in controlling the game, and Tottenham were barely able to force many actions from goalkeeper Kepa Arrizabalaga to secure the home goal until the final whistle sounded.
After the international break both teams will feature in the FA Cup fourth round on 5 February, when Chelsea host third tier Plymouth Argyle, while Tottenham meet Brighton & Hove Albion, as reported by Antara.
Reporter : turkhan
Editor : turkhan
Berita Terkait
Berita Rekomendasi