Daniil Medvedev Advances to Round of 64 at Wimbledon
Rabu, 30-Juni-2021 15:10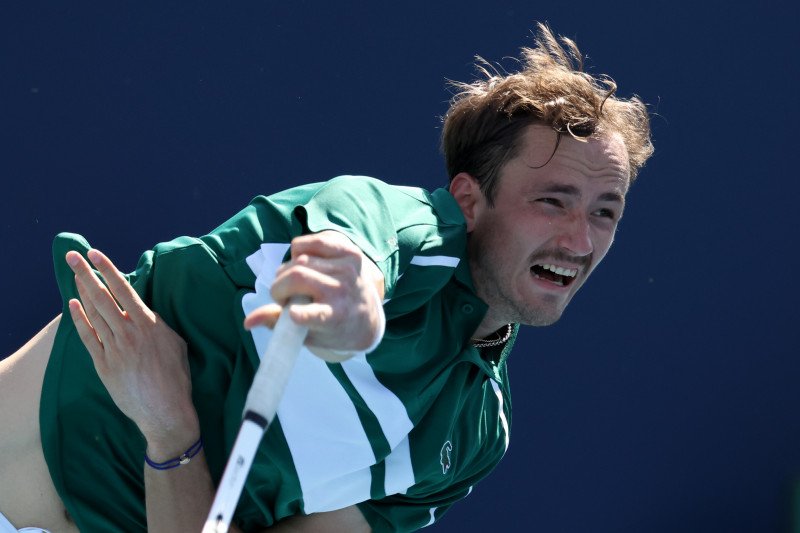 Foto : ANTARA/Geoff Burke-USA TODAY Sports
Russian tennis player Daniil Medvedev
JAKARTA, NETRALNEWS.COM - After winning his maiden grass court trophy at the Mallorca grass court tournament last week, Russian Daniil Medvedev has confidently played his way through the first round of Wimbledon on Tuesday night (06/29/2021) London time.
Playing in the cold and damp temperature of the All England Club arena, Medvedev overcame Germany's Jan-Lennard Struff 6-4, 6-1, 4-6, 7-6. The Russian tennis player has thus advanced into the last 64 of the Wimbledon grass court Grand Slam tournament.
"I was surprised that he won the first two sets so easily, but then he started showing an incredible game. The match was like a rollercoaster ride to the last point," Medvedev said of his match with Struff, as reported by Reuters.
Struff is not an easy opponent, as he did beat Medvedev on grass in Halle this month. Tonight's victory was also Medvedev's revenge.
The match was expected to be in just two sets for Medvedev, but the second seed had to face a real challenge in the third.
Luckily, Medvedev was able to restore the momentum of the game so as to avoid Struff's intention to extend the match to the fifth set, as reported by Antara.
Reporter : turkhan
Editor : turkhan
Berita Terkait
Berita Rekomendasi