Former Lille Owner Agrees to Save Bordeaux from Bankruptcy
Rabu, 23-Juni-2021 13:10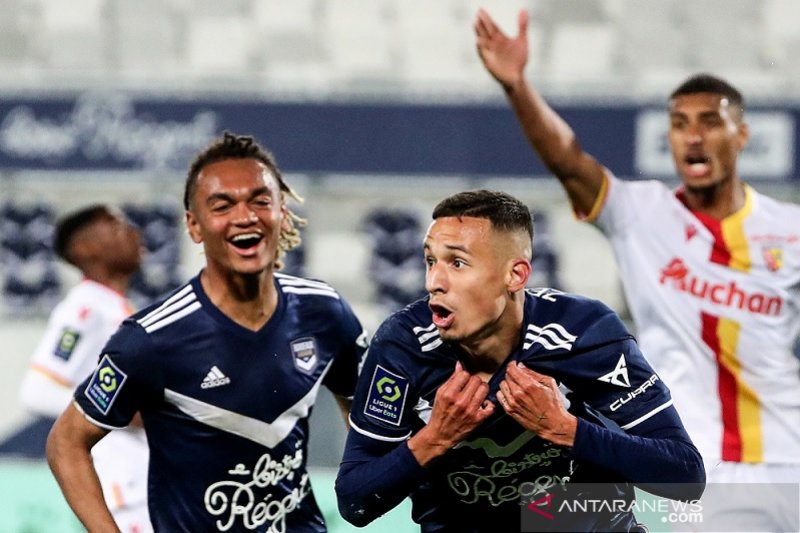 Foto : ANTARA/AFP/Romain Perrocheau
Bordeaux midfielder Mehdi Zerkane (right) celebrates his goal against RC Lens.
JAKARTA, NETRALNEWS.COM - Former Lille owner Gerard Lopez has reached an agreement with Ligue 1 football club Bordeaux to save the club from bankruptcy.
"After lengthy discussions over the past few days, an agreement was reached between King Street, Fortress and Gerard Lopez, for the implementation of the project from the latter," the Bordeaux website announced on Tuesday (06/22/2021) evening.
Bordeaux were on the verge of bankruptcy after their US owner, King Street Capital Management, said in April that they could no longer support the club's finances.
The former French League champions have been entangled in financial problems due to the COVID-19 pandemic and the suspension of the 2019/20 season, which has cost them many sources of income.
The problem got worse after the Spanish broadcasting rights agency Mediapro, which had a contract of 780 million euros (approximately IDR13.4 trillion) per season for 2020-2024, filed bankruptcy and was unable to pay its obligations.
A solution was found after Bordeaux said Lopez, who is also the former president of Formula One team Lotus, reached an agreement with King Street and lender Fortress Investment Group.
Now they are waiting for approval from the national directorate of management control of the French League.
Lopez himself just sold his stake in Lille to Callisto Sporting, a subsidiary of Luxembourg-based investment agency Merlyn Partners, last December.
Bordeaux last won the French League in 2008/09, and last season only finished in 12th place.
Reporter : turkhan
Editor : turkhan
Berita Terkait
Berita Rekomendasi