G20 Presidency Can Become Economic Growth Booster for Indonesia
Sabtu, 22-January-2022 23:00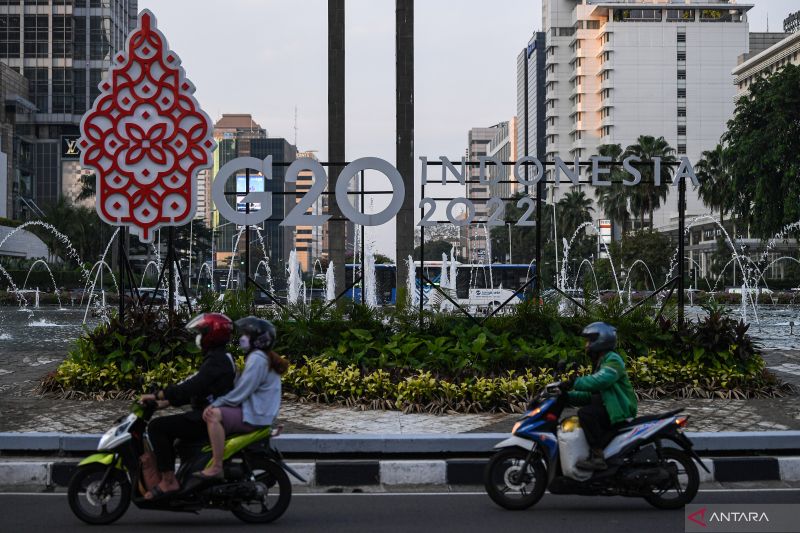 Foto : ANTARA FOTO/Sigid Kurniawan/aww
A logo of the Indonesian Presidency for G20 at Bundaran HI, Jakarta.
JAKARTA, NETRALNEWS.COM - Prima Gandhi, an academician from IPB University views that the G20 Presidency, which is held in various Indonesian cities from January 26 to November 2022, can become a booster for national economic growth this year. As the host of the G20 Summit for 2022, thousands of delegates from member countries will arrive in Indonesia to take part in the event.
Prima said there would be an increase in domestic food demand for the consumption of delegates from G20 member countries who are taking part in the summit events in Indonesia.
"The G20 Summit will see around 21,000 people attending, and this would cause demand to rise. There will definitely be economic growth that will occur," he said in Jakarta, on Saturday (01/22/2022).
However, Prima emphasized that the implementation of the G20 Presidency must run smoothly and well. He even assessed that the presence of G20 member delegations to witness the conditions in Indonesia could bring in investments from abroad.
"Foreign investment from abroad, investments from other countries to encourage growth can emerge. That Indonesia is in good economic condition, they can see for themselves by coming to Indonesia, and this can be a booster of economic growth," Prima said.
The government estimates that the G20 Presidency will have an impact on domestic consumption hike of IDR1.7 trillion and domestic GDP of IDR7.43 trillion from the visits of the delegates. In addition, the G20 Presidency is said to increase the role of MSMEs and help create 33,000 jobs in various sectors.
Moreover, the G20 presidency is said to bring economic benefits by 1.5 to two times greater in aggregate when compared to the IMF-World Bank Annual Meeting in Bali in 2018, as reported by Antara.
Reporter : turkhan
Editor : turkhan
Berita Terkait
Berita Rekomendasi