Instagram Launches Safety Features for Teens
Kamis, 09-December-2021 22:00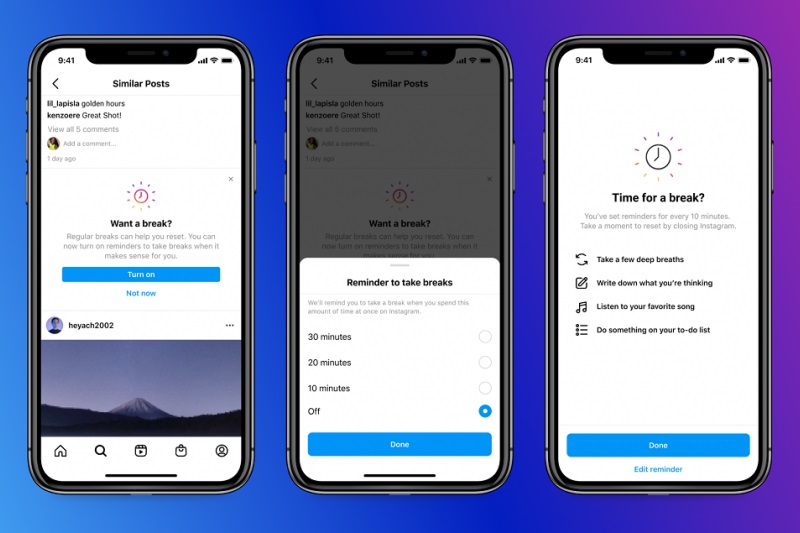 Foto : ANTARA/HO
illustration: the Take a Break feature from Instagram
JAKARTA, NETRALNEWS.COM - Instagram is updating features on its platform for the safety of its teenage users.
The social media platform, under the Meta group, plans to release a feature for parents so they can guide their children when using Instagram.
This feature, which will be available in March, will allow parents to see how much time their children spend on the social media.
As quoted from an official statement on Thursday (12/09/2021), this platform is also developing the latest information and education center for parents, which includes tips and advice from experts on the use of social media.
In the United States (US), Canada, the United Kingdom (UK) and Australia, the platform launched a Take A Break feature that can set the time to use the Instagram application.
If a user has spent the specified duration, Instagram will give them a warning to take a break.
Some time ago, Instagram enforced automatic settings for private accounts for teen users and adults couldn't send direct messages if they didn't follow the teen's account.
Most recently, the platform turned off the feature of tagging and mentioning teenage users for accounts that don't follow them. Instagram also turned off the automatic option to create Remix Reels and added Guides from the uploads of teenage users who just had an account.
The platform is also developing features to make it harder for teen accounts to find potentially harmful content on Search, Explore, Hashtags, Reels and Suggested Accounts pages.
For January next year, Instagram is planning a feature to remove multiple pieces of content at once, including photos, videos, comments and likes, as reported by Antara.
Reporter : turkhan
Editor : turkhan
Berita Terkait
Berita Rekomendasi