Kursein Karzai Introduces Environmental Awareness Through Sauve Ma Nature Collection
Rabu, 15-December-2021 20:00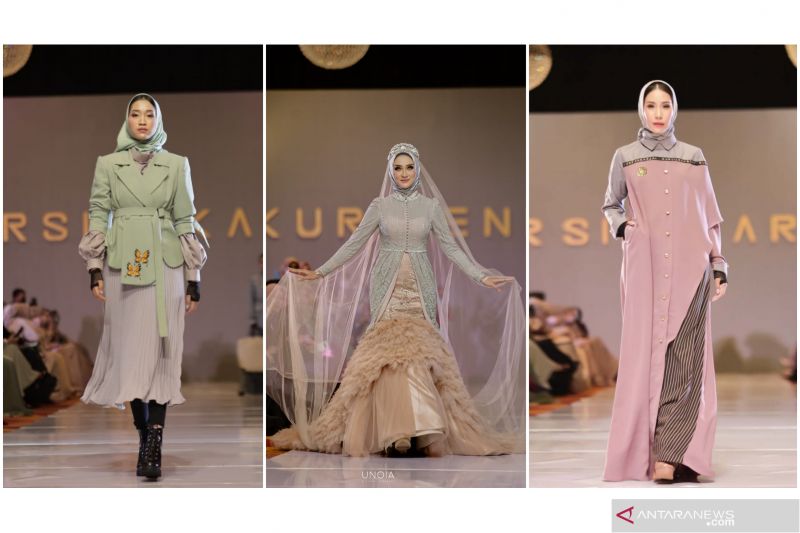 Foto : ANTARA/HO
Kursein Karzai's Sauve ma Nature collection at the Fash Lite Festival in Banjarmasin.
JAKARTA, NETRALNEWS.COM - Concern for the environment, forests, and natural resources that is increasingly concerning has inspired the theme of Kursein Karzai's Muslim fashion collection to be featured in the fashion title FashLite in Banjarmasin, South Kalimantan.
As quoted from his statement on Wednesday, "Sauve Ma Nature" is the theme of 34 ready-to-wear daily and evening dress collections from Kursein Karzai.
The ready-to-wear Muslim clothing consists of dress styles, abayas, tunics, skirts, and pants to provide more clothing choices for active women, with a choice of soft colors and bold color combinations such as black, army green, and maroon.
Meanwhile, the evening dress collection with an elegant nuance is dominated by lace material and application of pieces in the form of leaf patchwork made of organdy pleats.
Banjarmasin, which is synonymous with women who look fashionable, became the first choice to hold a Fashlite event, which was attended by Banjarmasin socialites. The event will then be held in several major cities in Indonesia.
"The organization of this event aims to establish a relationship with loyal customers and partners who have become an important and inseparable part of the speed of our fashion business in Banjarmasin," said Karzai.
"This event is expected to be able to revive the spirit of partners and loyal customers in the post-pandemic era, as well as an effort to start running the business of partners in a relay and endeavor to encourage partners who have the resilience to face the uncertainties of the current economic situation and conditions," Karzai added.
Chairen Karzai, who recently opened a Muslim fashion boutique at Kahfi Square No 36 F, Jagakarsa, South Jakarta, provides ready-to-wear Muslim clothing needs and serves the needs of bridal clothing for couples who are about to step into marriage, as reported by Antara.
Reporter : turkhan
Editor : turkhan
Berita Terkait
Berita Rekomendasi