Social Affairs Minister Conveys 4 Strategical Measures in Preparing for Disasters
Rabu, 21-Juli-2021 13:43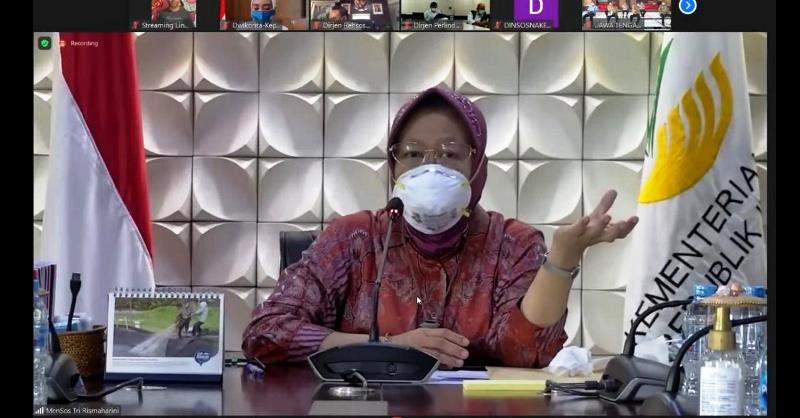 Foto : Indonesian Ministry of Social Affairs
Indonesian Minister of Social Affairs
JAKARTA, NETRALNEWS.COM - Indonesian Minister of Social Affairs Tri Rismaharini has urged all related parties and the ranks of the Ministry of Social Affairs to prepare for potential natural disasters that can come suddenly by taking four strategic steps.
First, immediately take various anticipatory steps by explaining to the public so that they understand the dangers of disasters, so that there are preparations to deal with them, including using local wisdom in the community.
"We learned from the disaster in Palu, in which the locals had previously been warned of a disaster, but because there was no response to the impact, we could see so many casualties," said the Minister of Social Affairs when giving directions regarding disaster preparedness held by the Directorate General of Social Protection and Security in Jakarta, on Wednesday (07/21/2021) morning.
Second, in a disaster situation, communication becomes an obstacle that is not easy to overcome because the conditions are not normal, so that it becomes difficult to send aid and what kind of policy to implement.
Problems also arise because of communication problems at the disaster site, when the team only focuses on one point that is considered severe, whereas at other points it is even more severe and urgently needs help that must be taken care of immediately
"It is very important to collaborate with the Indonesian Amateur Radio Organization (Orari) and Indonesian Inter-Population Radio (RAPI) who technically master the disaster conditions on the ground and can help communicate when a disaster occurs," said the Minister of Social Affairs.
Third, it is necessary to understand that what is predicted by the Meteorology, Climatology and Geophysics Agency (BMKG) should not be taken lightly, as the weather forecast have gone through stages and steps and scientific studies.
"I think it's important to understand the BMKG's forecast as an early warning because there are various scientific studies. Even though we know that all of this is God's will, but as humans, we must try with all our might to anticipate the impact of these natural disasters," explained Tri Rismaharini, also known as Risma.
Fourth, it is necessary to check the equipment needed in dealing with natural disasters, such as how to give a sign at home where there are family members with disabilities, such as blindness, or the elderly.
The sign in question can be a cross (X) or something else, so that when a disaster occurs, the evacuation team can easily identify houses with these signs and make efforts so that these priority residents are evacuated to safe places.
"When a disaster occurs, people with disabilities, the blind or the elderly don't know what to do, so with a special sign at the house, the evacuation team can quickly move to a safer place, and the number of fatalities can be minimized," she said.
Meanwhile, Head of BMKG Dwikorita Karnawati said there are 10 scientific studies related to disaster prediction, which are described in a map to make it easier to understand in three colors, namely red, yellow and green.
"For example, a map of the Pacitan area, East Java, the red color shows waves 10-14 meters high, the redder the color, higher the waves. The yellow color waves are 2-3 meters, and the green waves are 0.5 meters," said Dwikorita.
In the city of Palu, preparations have been made since 2009-2015 and all elements of society are prepared to deal with situations of natural disasters, starting from the Mayor, local government, Spatial Planning Service, schools, and other related parties.
"I agree with what the Minister of Social Affairs said regarding strategic disaster preparedness, and also the need to prepare buildings designed to withstand earthquake shocks up to 8.7 on the Richter scale (SR)," she said.
Reporter : turkhan
Editor : turkhan
Berita Terkait
Berita Rekomendasi