Social Affairs Ministry Launches Direct Social Studies Program for University Students
Jumat, 17-September-2021 18:00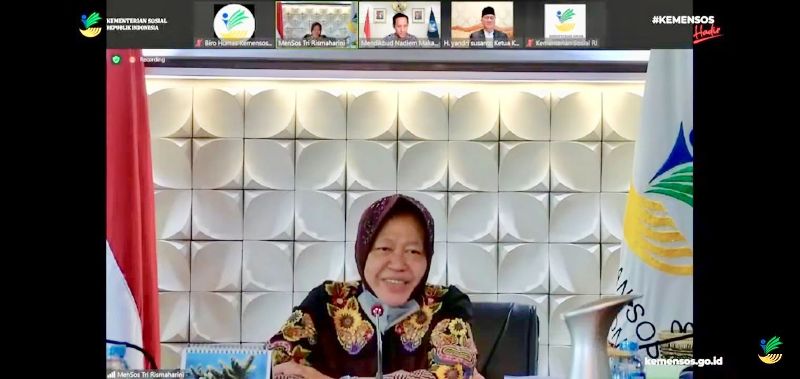 Foto : Indonesian Ministry of Social Affairs
Indonesian Minister of Social Affairs Tri Rismaharini
JAKARTA, NETRALNEWS.COM - Indonesian Minister of Social Affairs Tri Rismaharini has launched the Pejuang Muda (Young Fighters) Program. The program is a collaboration of the Ministry of Social Affairs with the Ministry of Education, Culture, Research and Technology, as part of the efforts to accelerate the alleviation of social issues in Indonesia.
"This program will focus on social entrepreneurship. Students are given the opportunity to seek experience on the ground directly to priority areas, namely post-disaster areas, pockets of poverty, and Remote Indigenous Communities (KAT) areas throughout the archipelago," said the Minister of Social Affairs online on Friday (09/17/2021).
Tri Rismaharini, also known as Risma, explained that the Young Fighters Program is a social laboratory for students who are expected to be able to apply their knowledge to provide concrete social impacts. Through this program, equivalent to 20 Semester Credit Units (SKS), students will be challenged to learn from residents while collaborating with local governments, community leaders, local religious leaders and all social mobilizing stakeholders in the region.
In this program, students act as agents of social change, through problem mapping, identification of alternative solutions, formulation of the best solutions, planning of resources and achievements, mobilizing the participation of community elements, implementation and reporting, as well as impact measurement.
"Students can also take part in program categories according to their majors or issues that interest them, including the issue of Social Assistance Program Development, Empowerment of the Poor and Elderly, Healthy Lifestyle and Environmental Health, and Facilities for the Public Interest," said the Minister of Social Affairs.
Combined activities can be carried out in two forms, namely offline and online. Offline activities are when where students go directly to the field by being actively involved in foundations, orphanages or social centers in the area. Online activities are carried out by students to be more inclusive so that they become a bridge for the region and the wider public who are moved to help.
"This program is open to students of at least in the fifth semester in all undergraduate study programs (S1) and a minimum GPA of 2.75. We have prepared it for 514 districts/cities. What is clear is that students will be given funds for transportation and operations, as well as experience if they want to make projects, and the cost for the meeting. We will facilitate it," said Social Affairs Minister Risma.
Meanwhile, Education Minister Nadiem Makarim said that since it was launched last year, the Merdeka Campus Program has been the answer to the deadlock of higher education which has been learning only in the classroom, namely by providing opportunities for students to study outside campus to hone their social skills and contribute significantly.
"I am glad that Mrs. Risma brought me here to propose a program. I think it will be hard for students because all the solutions to the problems are in this Ministry of Social Affairs project. These start from identifying problems, looking at local issues in the area, then recommending a plan, and implementing the plan. This is not social assistance, this is a social empowerment and social entrepreneurship program that specifically builds the locality (community). So creativity, collaboration, all profiles of Pancasila students that are the goal of Merdeka Learning are complete in this program. I support this program 100 percent," said the Minister of Education and Culture.
Chairman of Commission VIII of the House of Representatives Yandri Susanto said he was committed to supporting the Young Fighters Program through budget and policy support.
"We hope that the Young Fighters Merdeka Campus Program in the midst of this community is really greeted with great enthusiasm by our young people on campus. The involvement of all parties, especially young people, really needs to be tested that they really can and care for the country, especially social programs," Yandri said.
Registration for the Young Fighters Program will be open from 18-30 September 2021. For more information about this program, please visit https://pejuangmuda.kemensos.go.id/
Reporter : turkhan
Editor : turkhan
Berita Terkait
Berita Rekomendasi