Trade Minister Ensures Stable Food Prices ahead of Eid al-Adha
Sabtu, 26-Juni-2021 21:10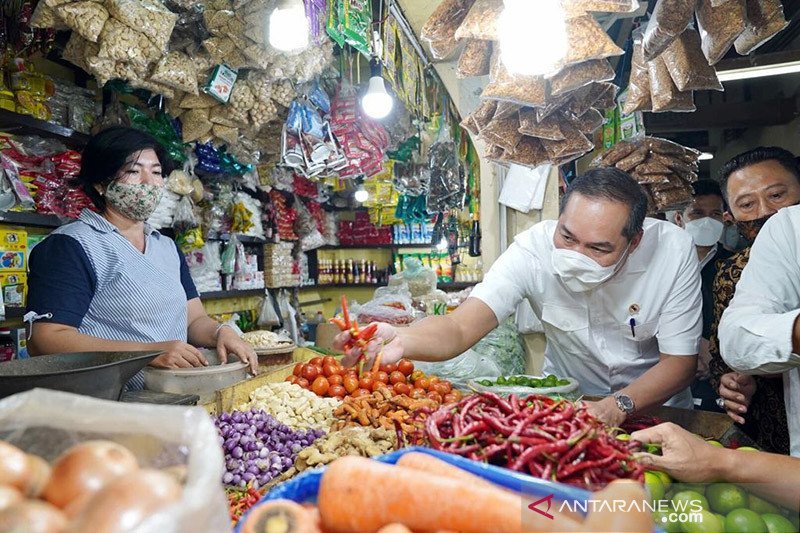 Foto : ANTARA/HO-Kemendag/am
Indonesian Trade Minister Muhammad Lutfi visits Wonokromo market in Surabaya.
MEDAN, NETRALNEWS.COM - Indonesian Minister of Trade Muhammad Lutfi has ensured that the prices of various food or basic necessities are stable and supplies are adequate ahead of Eid al-Adha.
"Yes, this is one of the national holidays. We have to prepare for it. God willing, the supply will be available and secure," Lutfi said while accompanying State-Owned Enterprises Minister Erick Thohir at the Joint Vaccination Center for SOEs at Polonia Airport Medan, North Sumatra, on Saturday (06/26/2021).
Even though the Eid al-Adha religious celebration for Muslims is less than a month away, the Minister continued that his office continues to monitor the availability of supply of a number of basic commodities so that prices remain stable in the markets.
Lutfi said that adequate basic necessities and secure supply from production centers could reduce price fluctuations if possible, even in the midst of the COVID-19 pandemic.
"God willing, because the stock is secure, the price is affordable. We don't have any imports and everything is normal. Like rice, our harvest this year is very good. So, I don't count on any imports," he asserted.
Meanwhile, for commodities, including sugar, cooking oil, beef, and chicken meat, among others, the supply is guaranteed to be maintained.
"According to our (production) calculation of granulated sugar this year, it is not worse than the previous year. So, everything should be safe," said Minister Lutfi, as reported by Antara.
Reporter : turkhan
Editor : turkhan
Berita Terkait
Berita Rekomendasi