Patricia Nataly, the MSME Entrepreneur who Took Lombok Pearls to Global Markets
Kamis, 02-December-2021 19:00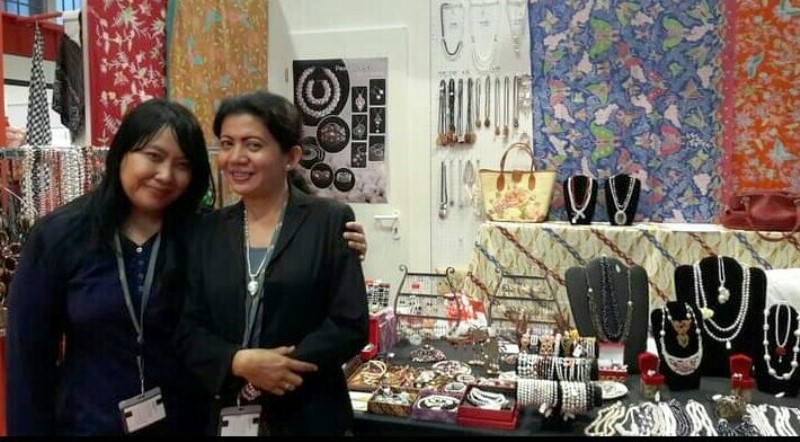 Foto : doc: patricia
Patricia Nataly and Wita Budiani, the founders of CV Wita Hara Kirana.
JAKARTA, NETRALNEWS.COM - Micro, Small and Medium Enterprises (MSME) entrepreneur Patricia Nataly has successfully introduced Mutiara Lombok (Lombok Pearls) to the international world. Together with her colleague, Wita Budiani, they founded a company called CV Wita Hara Kirana on March 27, 2015.
In September 2015, Patricia and Wita went straight to the China Expo by offering a variety of pearl jewelry products, on the encouragement of her relative, Tony Pasaribu, from the Indonesian Ministry of Trade.
Now, CV Wita Hara Kirana has sold pearl jewelry to several cities and countries in Europe such as Berlin, Stuttgart, Luxembourg, Brno, Italy, and England. In addition, they also sell pearl jewelry to several cities and countries in Asia, including Nanning, Fuzhou, Makati, Manila, Hat Yai, Bangkok, Dhaka, Taipei, Macao, Phnom Phen, Siem Reap, Penang, Kinabalu, and cities in America such as Houston.
So who exactly is Patricia Nataly? How was her business journey, and how did she achieve success in exporting Lombok pearl jewelry products to the international world?
Talented in Art Since School
Patricia felt that she did not have artistic descendants from her parents who were of Chinese and Ambonese blood. She admitted that while in school she often got good grades, especially in the subject of crafts.
No wonder her friends at that time were happy when they were in a group with Patricia. Her friends would feel "safe" because they would get good craft grades when they join with Patricia.
"And at that time I felt proud because the results liked to be displayed at school. I used to study at a company school because my parents were in Plaju, South Sumatra and the school wasn't big. If it's on display, it's cool, that's all. There is joy," said Patricia to Netralnews recently.
Studying Tourism at Univetitas Trisakti
After graduating from high school, the Plaju-born woman decided to continue her education at Trisakti University by majoring in tourism. The reason was because Patricia was so fond of traveling. She even once dreamed of becoming a tour guide.
Patricia said the tour guide profession looks so fun, because she could go to various countries and travel around Indonesia. Patricia also had time to work in an airline travel service.
"But when you come here, oh, it's just like this, and you need another challenge. So I thought, I took the wrong major this time. Friends said you took the wrong major," Patricia recalled with a laugh.
Hobby of Making Accessories
While she was studying, Patricia had a hobby of making various kinds of accessories. These were simple things that are often worn everyday, such as earrings and bracelets. Initially, she wore the handicrafts that she had made herself, but was apparently questioned by her friends around her.
"That handicraft looks nice. Where did you buy it? I did not buy it, I made it myself. Are you serious? I'll buy it. Oh yes, and many people like this hobby," said Patricia.
Patricia didn't think that her hobby could make a lot of money. She had earlier thought that it would be difficult to find a job in a design school. But now she feels the need to re-learn about design.
However, Patricia is quite confident that her jewelery designs are not inferior to those who have studied in the design before. "I'm doing this While studying again," she continued.
Opening a Pearl Business
In 2013, Patricia decided to quit her job and try to open a pearl business. On 27 March 2015, she opened a company called CV Wita Hara Kirana with her partner, Wita Budiani.
Patricia said Wita means woman; Hara is an Old Sanskrit which means pearl; and Kirana means beautiful. The hope is that women can use Indonesian pearls that sparkle beautifully.
Patricia and Wita realize that pearl jewelry has always been identical to worn by older women. So they wanted to change that image, that pearl jewelry can also be worn by all ages, from children, teenagers, young people, to adults.
"I made (the design) so that all people can use it and change the image of most people. It turned out to be pretty good for the market, they (consumers) liked it," she said.
Going International in 2015
The company was only inaugurated in March 2015, but Patricia and Wita were determined to go international in September 2015, after completing their business at a notary. They started the export of pearl jewelry products abroad in the China Expo, with the support of a relative from the Ministry of Trade, Tony Pasaribu.
"He first convinced me, come on, your product is good, even though we are still new. Moreover, in China there are also pearls. Wow, this is really a challenge. But we kept moving, with confidence, because our products are different, they have their own characteristics," said Patricia.
Patricia and Wita were grateful that their handmade pearl jewelery was favored during the China Expo. Many foreigners just found out that Indonesia has an area called Lombok, because so far foreigners only know Bali. Many foreigners just found out that Indonesia has beautiful pearls.
Currently CV Wita Hara Kirana has an office in Bogor, West Java, and employs around nine craftsmen. The majority of the craftsmen are housewives, while three of whom are male craftsmen.
Writing a Rare Palembang Culinary Book
Apart from being successful in Lombok Pearl Jewelry, Patricia is also now starting to venture into writing. In collaboration with a French writer, Patricia is currently writing a book containing Palembang's rare culinary delights.
Born in Plaju, it made Patricia become so in love with her hometown, especially Palembang culinary. Apart from Lombok Pearls, she also wants to promote the cuisine of the extinct archipelago from South Sumatra to the international community.
The culinary book is planned to be launched in 2022. The book will be launched in several foreign languages ​​and Indonesian, according to Patricia's wishes.
"Love your country and your city. Do not forget the legacy of our parents and ancestors. Don't let other people claim it later," said Patricia.
Reporter : turkhan
Editor : turkhan
Berita Terkait
Berita Rekomendasi