President Joko Widodo Urges the Development of Electric Vehicle Ecosystem
Rabu, 17-November-2021 20:00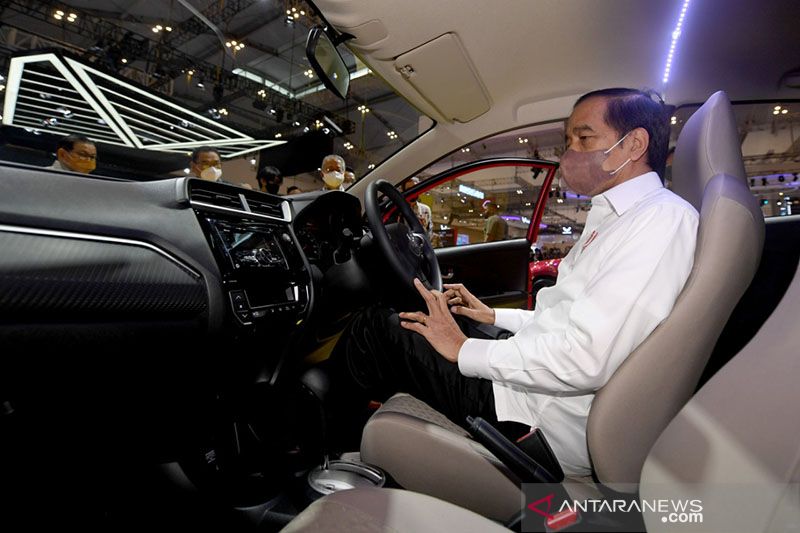 Foto : ANTARA/HO-Biro Pers Sekretariat Presiden
Indonesian President Joko Widodo tries one of the cars on display at GIIAS in ICE BSD City.
JAKARTA, NETRALNEWS.COM - Indonesian President oko Widodo says electric car ecosystem that is low in emissions and environmentally friendly needs to be built immediately. Therefore, the Indonesian government continues to encourage various efforts to increase the production of electric and hybrid cars.
This was conveyed by the President after visiting the Gaikindo Indonesia International Auto Show (GIIAS) exhibition at the Indonesia Convention Exhibition (ICE), BSD City, Tangerang Regency, Banten.
"We are also pushing for the production of electric cars, the production of hybrid cars, but again, everything must be environmentally friendly," said the President in a press release in Jakarta, on Wednesday (11/17/2021).
At the GIIAS 2021 exhibition, the President also visited a number of booths from various automotive brands. At a number of booths, the President also tried getting on some of the cars on display.
In addition, the President also met with a number of CEOs from car manufacturers who were present at the exhibition, with the theme "Wheels to Move".
"Earlier we met with the CEOs and I conveyed what is our concern and what we must do together for the future," added the President.
The Head of State also took the time to try out one of the electric cars on display, namely the Mitsubishi Minicab Miev. Accompanied by the Minister of Industry Agus Gumiwang Kartasasmita, the President was seen driving the electric car around the front yard of the ICE BSD City building.
Reporter : turkhan
Editor : turkhan
Berita Terkait
Berita Rekomendasi