PSSI Welcomes Indonesian National Men's Football Team's FIFA Ranking Hike
Jumat, 22-Oktober-2021 21:00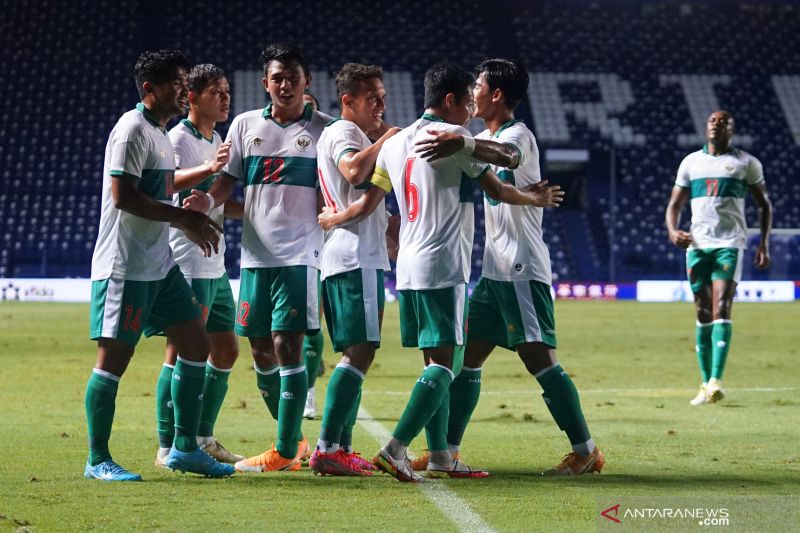 Foto : ANTARA FOTO/HO/Humas PSSI/wpa/foc
Several players from the Indonesian Men's National Football squad celebrate a goal.
JAKARTA, NETRALNEWS.COM - PSSI, through its general chairperson Mochamad Iriawan, has welcomed the rise of Indonesia's men's national team ranking in the FIFA national men's football rankings. The Indonesian men's national team's ranking has improved to 165 as of October 21, 2021.
"We were able to defeat countries that were stronger than us, and that helped improve our rank to rise to 165," Iriawan said in Jakarta, on Friday (10/22/2021).
Iriawan said the success of the Garuda squad to rise 10 ranks from the previous FIFA rankings position cannot be separated from the support of many parties, especially the football clubs.
The clubs, Iriawan continued, showed a high sense of nationality by allowing their best players to play for the Indonesian men's team.
"The national interest is more important than anything else," Iriawan added.
The improvement in Indonesia's position in the FIFA rankings was mainly influenced by the success of coach Shin Tae-yong's squad in defeating Taiwan in the two-leg playoff of the 2023 Asian Cup Qualification in October 2021, with an aggregate score of 5-1.
Throughout history, Indonesia's highest position in FIFA was 76 in 1998, and the worst was 191 (2016).
In the latest FIFA rankings, ASEAN countries ranked above Indonesia are Vietnam (98), Thailand (117), Philippines (127), Myanmar (145), Malaysia (155) and Singapore (160).
While those below Indonesia are Cambodia (170), Laos (185) and Brunei Darussalam (189), as reported by Antara.
Reporter : turkhan
Editor : turkhan
Berita Terkait
Berita Rekomendasi