Rupiah Closes Lower to IDR14,367 per US Dollar
Kamis, 09-December-2021 19:00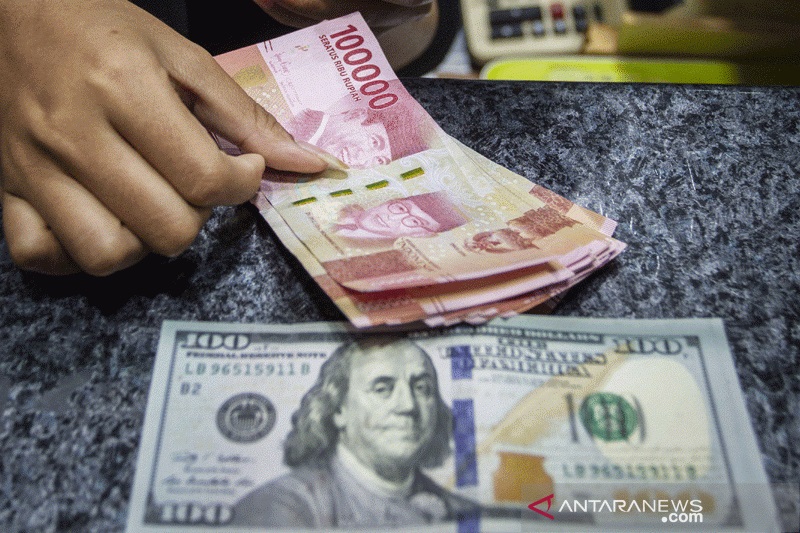 Foto : ANTARA FOTO/Dhemas Reviyanto/wsj
illustration: Indonesian rupiah and US dollar
JAKARTA, NETRALNEWS.COM - Rupiah exchange rate at the interbank level in Jakarta on Thursday (12/09/2021) afternoon is closed lower, in line with the increase in yields on United States (US) government bonds.
This afternoon, the rupiah was closed down by 10 points or 0.07 percent to IDR14,367 per US dollar, as compared to IDR14,357 per dollar at the previous trade closing.
"The yields of US government bonds seems to be rising. It is possible that the market will pay attention to the discourse on accelerating the tapering of the US central bank," said Money Market Observer Ariston Tjendra in Jakarta, on Thursday (9/12/2021).
The dollar index is currently at 96.09, up 0.2 percent. The US central bank, the Federal Reserve (Fed), will announce its latest monetary policy next week.
"Tonight and tomorrow night, the market will be watching data that might affect the outcome of the US monetary meeting, namely weekly jobless claims data and US consumer inflation data for November," Ariston said.
From within the country, the daily number of COVID-19 cases on Wednesday (12/08) yesterday reached 264 cases, bringing the total number of positive confirmed cases of COVID-19 to 4.26 million cases. Meanwhile, the number of deaths due to exposure to COVID-19 reached 16 cases, bringing the total to 143,909 cases.
Meanwhile, the number of recovered cases increased by 351 cases, bringing the total recovered patients to 4.11 million cases. Thus, the total active cases of COVID-19 reached 5,363 cases.
For vaccination, the number of people who have been injected with the first dose of vaccine has reached 143.79 million people and 100.46 million people have received the second dose of vaccine from the target of 208 million people who were vaccinated.
As reported by Antara, the Rupiah opened higher this morning to a position of IDR14,318 per dollar. Throughout the day the rupiah moved in the range of IDR14,312 per dollar to IDR14,371 per dollar.
Meanwhile, Bank Indonesia's Jakarta Interbank Spot Dollar Rate (JISDOR) exchange rate was closed higher on Thursday to IDR14,351 per dollar, as compared to the previous day's position of IDR14,348 a dollar.
Reporter : turkhan
Editor : turkhan
Berita Terkait
Berita Rekomendasi