Social Affairs Minister Set to Improve Basic Infrastructure Quality of Meratus Dayak Indigenous Community
Selasa, 14-September-2021 22:00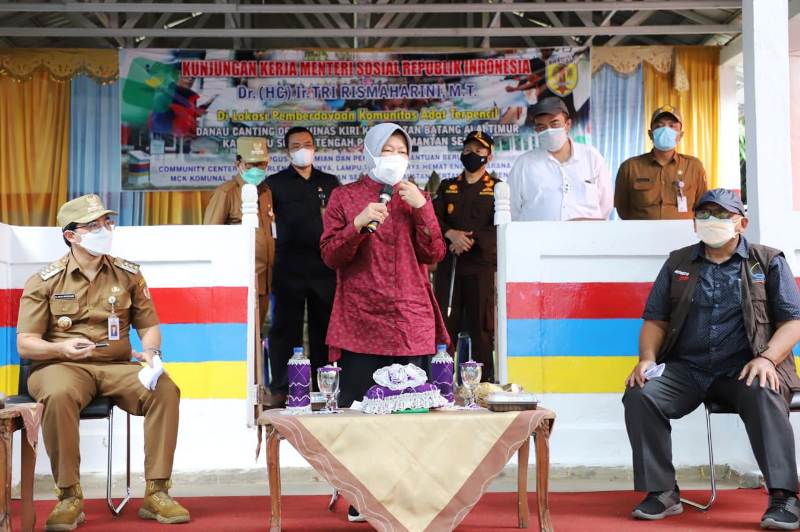 Foto : Indonesian Ministry of Social Affairs
Indonesian Minister of Social Affairs Tri Rismaharini (center)
BARABAI, NETRALNEWS.COM - Indonesian Minister of Social Affairs Tri Rismaharini has ensured that the State is present for all citizens, including those who live in remote areas. The State, through the Ministry of Social Affairs, will improve the quality of facilities and infrastructure for Remote Indigenous Communities (KAT).
During her visit to the location of the Meratus Dayak indigenous community in Hulu Sungai Tengah (HST), the Minister of Social Affairs witnessed several limitations, such as the availability of places to study, electricity networks, and others.
At the Meratus Dayak community, the Minister of Social Affairs stated that she would build a community center in this location.
"Maybe we can modify the meeting building for the children to study. We can also prepare a library. We can help access the Library Agency to fill the library when it is finished," said Social Affairs Minister Tri Rismaharini, also known as Risma.
The statement was made by the Minister of Social Affairs during a visit to Danau Canting Hamlet, Hinas Kiri Village, East Batang Alai District, HST Regency, South Kalimantan Province, on Tuesday (09/14/2021).
Risma's visit to the indigenous community itself is a form of State Presence in remote, outermost and underdeveloped areas (3T). On this occasion, the Minister of Social Affairs also symbolically delivered various aid to ensure that indigenous community residents can continue to be productive. The total assistance given by the Minister of Social Affairs to the Meratus Dayak KAT reached IDR1,524,701,573.
This comprises of firstly, the domestic grant (HDN) aid totaling IDR 59,100,000 are earmarked for: 1. School equipment (elementary, middle, high school) for 67 children @IDR 300,000 for a total of IDR20,100,000. 2. Agricultural equipment in four KAT locations for 78 Family Cards (KK) in the form of hoes, sickles, machetes, sprayers @IDR500,000 for a total of IDR39,000,000.
Second, Indomaret Peduli KAT customers donation of IDR1,010,332,573 for:1. Clean water facilities, communal toilets, social centers and reforestation at two locations of Canting Lake and Bumbung River with a total of IDR739,208,000. 2. Lighting assistance for Energy Saving Solar Lamps (LTSHE) for 78 families with a total of IDR271,124,573.
Third, APBN assistance for KAT empowerment in Special locations with a total of IDR400,741,000 which symbolically takes the form of Community Center assistance and equipment, Clean Water Facilities and Business Stimulants.
Fourth, the delivery of Health Protocol Assistance in the form of masks and vitamins for the poor or affected by COVID-19 through Youth Organizations for 13 Regencies/Cities with a total of 16,510 packages.
Fifth, ProKus Business Development Assistance for the Murakata Maju Foundation through members of Commission VIII of the House of Representatives, in the form of business capital worth IDR30,000,000.
Sixth, assistance for children's and adult's clothing for 100 people and iodized food ingredients for 78 families with a total of IDR24,528,000.
In addition, the Minister of Social Affairs also reviewed and inaugurated the Clean Water Facility or Communal MCK at the Social Center and reforestation in the form of production plants from the PUB Indomaret Peduli KAT program.
The attention and assistance of the Ministry of Social Affairs is appreciated and positively welcomed by the local government.
"We hope that the Ministry of Social Affairs' programs can continue to be sustainable, so that isolated villagers can also feel the name of development, and a progress," said HST Regent Aulia Oktafiandi.
"After all, this KAT, in terms of income and so on, is below average. Therefore, we are grateful for the assistance provided by the Ministry of Social Affairs," added the Head of the HST Social Service, Wahyudi Rahmad.
Reporter : turkhan
Editor : turkhan
Berita Terkait
Berita Rekomendasi