Social Affairs Ministry Distribute 200,660 Masks and Vitamins Packages for Public
Selasa, 14-September-2021 11:00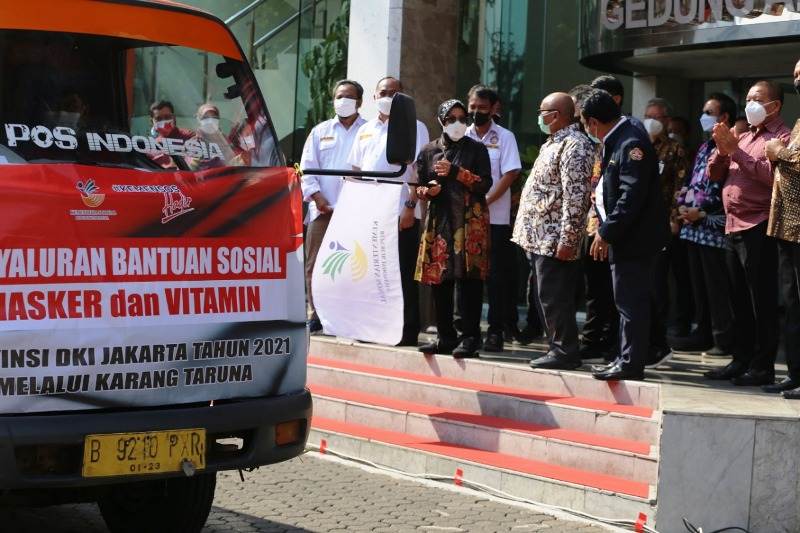 Foto : Indonesian Ministry of Social Affairs
Indonesian Minister of Social Affairs Tri Rismaharini (center, sunglasses)
JAKARTA ,NETRALNEWS.COM - During the New Normal period, the public is required to comply with health protocols to prevent the transmission of COVID-19, one of which is by wearing masks when conducting activities. In addition, vitamin intake is important to strengthen the immune system.
In line with the Indonesian Government's efforts to break the chain of COVID-19 transmission, the Ministry of Social Affairs, through the Directorate General of Social Empowerment, distributed masks and vitamins packages in 514 districts/cities throughout Indonesia.
In collaboration with Regency/City Youth Organizations, Minister of Social Affairs Tri Rismaharini emphasized that the distribution of packages prioritizes the poor, and are carried out per sub-district so as not to cause crowds.
"When making work visits to various regions, many residents do not have masks. Finding vitamins today is also not easy, but we will try our best," said Social Affairs Minister Tri Rismaharini, also known as Risma, in Jakarta, on Tuesday (09/14/2021).
Each Regency/City receives 1,270 packages of masks and vitamins, which are packaged in goodie bag, contain seven masks and three kinds of vitamins per goodie bag, namely vitamin C, D and zinc. The package of the maskers and vitamins are carried out with strict health protocols, such as wearing masks and gloves and maintaining distance, so that the package is guaranteed to be hygienic.
"To facilitate the distribution of vitamins and masks by Karang Taruna youth organizations, we will try to make them packaged and ready to be sent through PT Pos Logistics Indonesia," said the Minister of Social Affairs.
In addition to the Regency/City Youth Organizations, the Ministry of Social Affairs also involves the Social Services Office (Dinsos) so that the masks and vitamins packages are immediately distributed to the public. To date, as many as 200,660 masks and vitamin packages have been distributed in 158 regencies/cities in the country.
"I hope there are no problems sending through Dinsos. So, we give a role to our young people so that they can make a real contribution to the nation and country that really need the spirit of mutual cooperation in overcoming the COVID-19 pandemic," said the Minister of Social Affairs.
Risma added that the handling the COVID-19 pandemic, is a form of handling social welfare development where social pillars are needed as a form of synergy and partnership with the government.
"Social pillars such as Karang Taruna youth organizations and Community Social Workers (PSM) have networks up to the neighborhood and hamlets levels, so that their involvement accelerates the handling of the pandemic," she said.
Reporter : turkhan
Editor : turkhan
Berita Terkait
Berita Rekomendasi