Social Affairs Ministry Distributes Aid and Empowers Marginal Groups in West Nusa Tenggara
Rabu, 13-Oktober-2021 19:00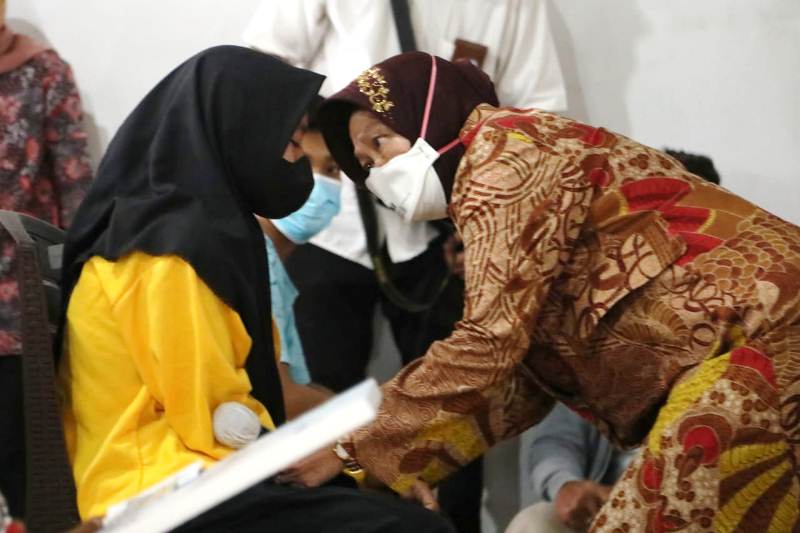 Foto : Indonesian Ministry of Social Affairs
Indonesian MInister of Social Affairs Tri Rismaharini (white mask)
EAST LOMBOK, NETRALNEWS.COM - Indonesian Minister of Social Affairs Tri Rismaharini has conducted a work visit to East Lombok Regency, Sumbawa Regency, and Mataram City, West Nusa Tenggara (NTB) Province. During the work visit, the Minister of Social Affairs strengthened the empowerment of marginalized groups, while also distributing aid.
In today's series of visits, the Minister of Social Affairs also distributed assistance for persons with disabilities, orphans, and the elderly. The types of assistance include accessibility assistance, Social Rehabilitation Assistance (ATENSI) aid, nutrition and vitamin assistance, and entrepreneurship assistance.
The assistance covered 385 people with a total value of more than IDR700 million.
"With this assistance, it is hoped that it will help marginalized groups achieve economic independence, and in turn accelerate the handling of poverty in some areas of NTB," said Tri Rismaharini, also known as Risma, on the sidelines of the visit, on Wednesday (10/13/2021).
In East Lombok, the aid was delivered to 229 beneficiaries with a value of IDR493.150.000. Specifically for five PKH Graduation participants, each of them was given assistance of IDR2,500,000.
Assistance was given in the form of food packages, flour and coffee grinding machines, tempeh steamers, 150 kg of tempeh raw material, and a refrigerator.
The social aid for Mataram City will symbolically be given by the Minister of Social Affairs to 153 beneficiaries at Paramitha Center, with a value of IDR242,479,000. In this place, the Minister of Social Affairs will at the same time inaugurate the Attention Creation Center (SKA).
"SKA is one of the important pillars in the poverty alleviation strategy implemented by the Ministry of Social Affairs, apart from the social assistance instrument," Risma said.
Through the SKA, the Ministry of Social Affairs strengthens the vocational and social entrepreneurship capabilities of the poorest/marginalized/neglected groups (extreme poverty).
Here, they are also connected with economic networks to find potential buyers. SKA prepares job opportunities, increases socioeconomic independence, and improves social welfare. SKA also provides shopping and recreation areas within an area.
In addition to the distribution of aid, the Minister of Social Affairs will also lead the evaluation of the mechanism for distributing social assistance and data matching on the Keluarga Program (PKH) and Non-Cash Food Assistance (BPNT)/Staple Food Cards. 
Reporter : turkhan
Editor : turkhan
Berita Terkait
Berita Rekomendasi