Social Affairs Ministry Distributes Maskers and Vitamins to 514 Districts and Cities
Selasa, 03-Agustus-2021 16:47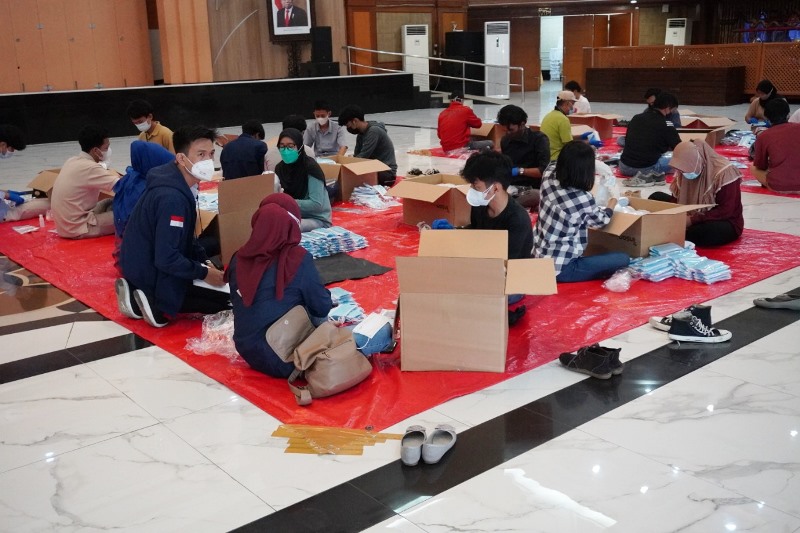 Foto : Indonesian Ministry of Social Affairs
Youth Organization members pack vitamins and maskers for distribution
JAKARTA, NETRALNEWS.COM - The Indonesian Ministry of Social Affairs has started setting up packages containing masks and vitamins for underprivileged communities in 514 districts and cities in Indonesia. The Ministry of Social Affairs partners with Karang Taruna (Youth Organization) as the distributor of the packages.
Minister of Social Affairs Tri Rismaharini, also known as Risma, said the government cannot work alone in handling social welfare development, including in dealing with the pandemic. Potential partnerships and synergies with communities are very helpful.
"You can't just rely on the government in handling the COVID-19 pandemic, but it is necessary to involve social pillars such as Youth Organizations and Community Social Workers (PSM) who have networks up to the neighborhood and hamlet levels. Synergy with various elements of society is important in expediting the handling of the pandemic," said the Minister of Social Affairs regarding the distribution of these medical items, as stated in a statement received by Netralnews, on Tuesday (08/03/2021).
The Minister of Social Affairs reminded that Indonesia has tremendous power despite being a diverse nation with different religions, ethnicities, languages ​​and customs, and the nation's independence fighters have proven that in seizing and defending the independence, they used the spirit of gotong royong (mutual cooperation). The same applies to the COVID-19 pandemic.
Each package are packed in a goodie bag contains seven masks and vitamins. Also, during the packaging process, health protocols are applied, such as wearing masks and gloves and keeping a distance so that hygiene is guaranteed.
Today, 15 Karang Taruna personnel from Senen Subdistrict, Central Jakarta and 15 North Jakarta PSM members began packing packages containing masks and vitamins at the Aneka Bhakti Building at the Ministry of Social Affairs Complex.
"Each youth organization in 514 regencies and cities will receive 1000 packages, and then distribute them per sub-district to be further distributed to underprivileged communities as part of efforts to deal with the COVID-19 pandemic," said acting Secretary to the Director General of Social Empowerment Laoude Taufik Nuryadin.
The distribution of masks and vitamin packages by Karang Taruna is also a response to several visits by the Minister of Social Affairs to various regions. When some residents were asked by the Minister of Social Affairs on why they didn't wear any masks, they answered that they didn't have a mask. So the Minister of Social Affairs responded quickly by distributing masks and vitamins through Youth Organizations so that people wear masks and maintain body immunity by consuming vitamins.
"It is recognized that this effort has not been able to meet all the needs of masks and vitamins. But at least this small step arouses public awareness to implement health protocols properly so that the COVID-19 transmission can continue to be controlled," she said.
Andika, coordinator of Karang Taruna in Senen Sub-district, Central Jakarta, said that this was the first time the mask and vitamin packing activity was carried out by involving 15 personnel.
"According to our request, we sent 15 personnel to pack masks and vitamins. Previously, during the pandemic, we sprayed disinfectants in the neighborhood, helped distribute social assistance and other social activities," said Andika.
The same thing was conveyed by the North Jakarta PSM Coordinator, Juwadi, that he had mobilized as many as 15 personnel for the activity of packing masks and vitamin packages at the Ministry of Social Affairs office with youth groups.
"Of the 500 PSM personnel in North Jakarta, only 15 people deployed today, and will be adjusted to the needs in the future. In addition, in line with government policies, PSMs are also actively assisting the government in vaccination activities for the public," he said.
Reporter : turkhan
Editor : turkhan
Berita Terkait
Berita Rekomendasi