Social Affairs Ministry Provides Protection for 4 Million Children Who Lost Their Parents due to COVID-19
Senin, 23-Agustus-2021 18:00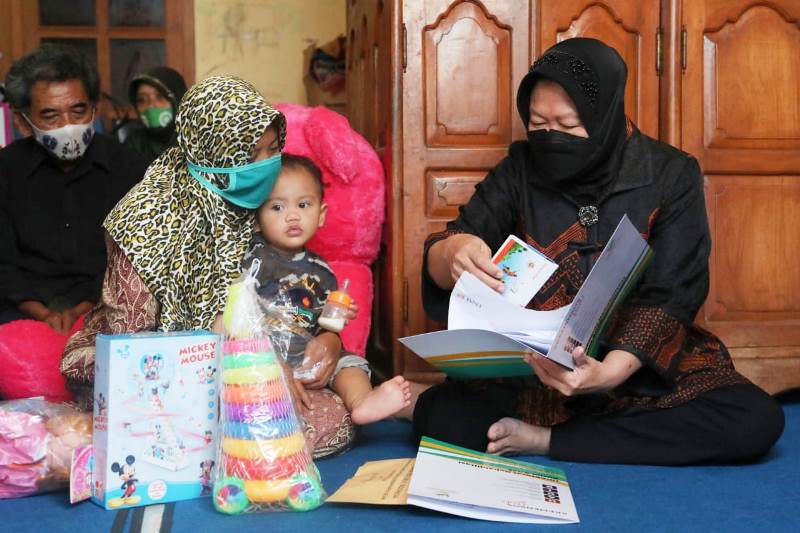 Foto : Indonesian Ministry of Social Affairs
Indonesian Minister of Social Affairs Tri Rismaharini, also known as Risma (right)
JAKARTA, NETRALNEWS.COM - The COVID-19 pandemic has resulted in many children becoming orphans after losing one or both of their parents. Indonesian Minister of Social Affairs Tri Rismaharini, also known as Risma, has ensured that the state is present to provide protection for these children.
Social Affairs Minister Risma said the protection program for orphans covers a target of 4,043,622 children, consisting of 20,000 children who lost their parents due to COVID-19, 45,000 children who are in the care of LKSA (Child Welfare Institution), and 3,978,622 children who are cared for by poor families.
"I ensure that children who have lost one or both of their parents are given protection. They are not only given support for their physical needs, but also psychosocial support, parenting, and support for continuing their education," said the Minister of Social Affairs at a press conference at the Ministry of Social Affairs office, on Tuesday (08/24/2021).
The Ministry of Social Affairs has designed a program for orphans whose parents died from COVID-19 as a strategic step to ensure that children's rights are still fulfilled even in difficult situations. The Ministry of Social Affairs is coordinating with the Ministry of Finance and the Indonesian National Development Planning Agency to prepare budget support of approximately IDR3.2 trillion.
"The types of assistance to each child is not the same. These children will be assessed first. The form of assistance will be adjusted according to the results of their assessments," Risma said.
Children who have lost a parent but are living with the other parent can obtain assistance through the Keluarga Harapan Program (PKH).
To ensure that the children can continue their education, educational assistance can be provided, such as the Smart Indonesia Card (KIP). But for that, said the Minister of Social Affairs, the Ministry of Social Affairs cannot work alone.
"To actualize this policy, we have established communication and collaboration with ministries, other institutions and local governments, including the Ministry of Education and Culture for KIP assistance," said the Minister of Social Affairs.
The Ministry of Social Affairs also provides vocational and entrepreneurship training, social assistance/social aid and accessibility support. The ATENSI assistance for children is not only aimed at children who have lost their parents due to COVID-19, but also for orphans assisted by child welfare institutions, and those who live in underprivileged families.
Data from the SIKS NG Application as of May 2021 from 3,914 child welfare institutions show that there are 191,696 children in the care of child welfare institutions. Of these, 33,085, while the remaining children have lost one of their parents, with a total of 44,181 inhabitants. The Minister of Social Affairs has also ordered social rehabilitation centers and UPTs under the Ministry of Social Affairs to act as shelters to protect children and families affected by the COVID-19 pandemic.
Reporter : turkhan
Editor : turkhan
Berita Terkait
Berita Rekomendasi