Tangerang City Gov't Prepares for Third Wave of COVID-19 Infections
Sabtu, 22-January-2022 19:00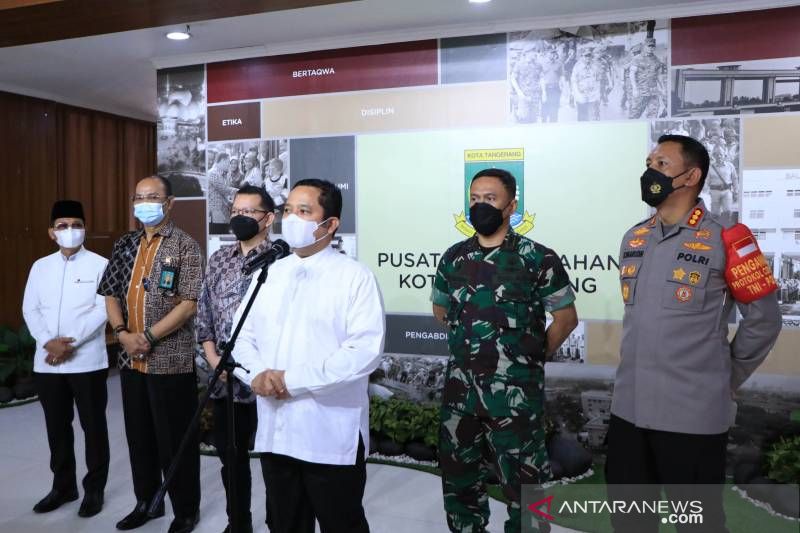 Foto : ANTARA
Tangerang City Mayor Arief Wismansyah (center, white shirt)
TANGERANG, NETRALNEWS.COM - The Tangerang City Government in Banten is preparing to face the third wave of COVID-19, which is marked by the increasing number of transmissions and confirmed COVID-19 patients, both nationally and regionally.
Tangerang Mayor Arief R. Wismansyah said that all elements in the area, including the ranks of the Tangerang City Government, the TNI military, Polri Indonesian National Police, and hospitals are on alert for the third wave of COVID-19 transmission.
"This morning we asked all hospitals and health centers to be on alert following the spike in cases in the last few days," Arief said after holding a local meeting in Tangerang, on Friday (01/21/2022).
This was carried out as a follow-up to a meeting with regional heads throughout Java and Bali that was led by Indonesian Coordinating Minister for Maritime Affairs and Investment last night on the readiness to face the third wave of COVID-19.
In detail, Arief said the Tangerang City Government had coordinated with hospital leaders and heads of community health centers regarding the provision of health services for the public, especially those with Influenza-like illness (ILI) symptoms.
"If you have ILI symptoms, you have to be swabbed (swab test) to anticipated if you are positive for COVID-19. And if you want to be quarantined, the City Government also provides facilities," he said.
Arief added that vaccinations were continuously carried out as a step to minimize the negative impact on people who were confirmed positive for COVID-19.
"We urge the public to immediately participate in vaccinations, so that all can be protected," he said.
Vaccinations in Tangerang City as ofJanuary 20, 2022, have reached 1,568,779 people for dose one, and 1,115,175 people for dose two, while 30,304 people have received booster vaccines, as reported by Antara.
Reporter : turkhan
Editor : turkhan
Berita Terkait
Berita Rekomendasi