Ukraine Withdraws from Xinjiang Joint Agreement
Minggu, 27-Juni-2021 15:10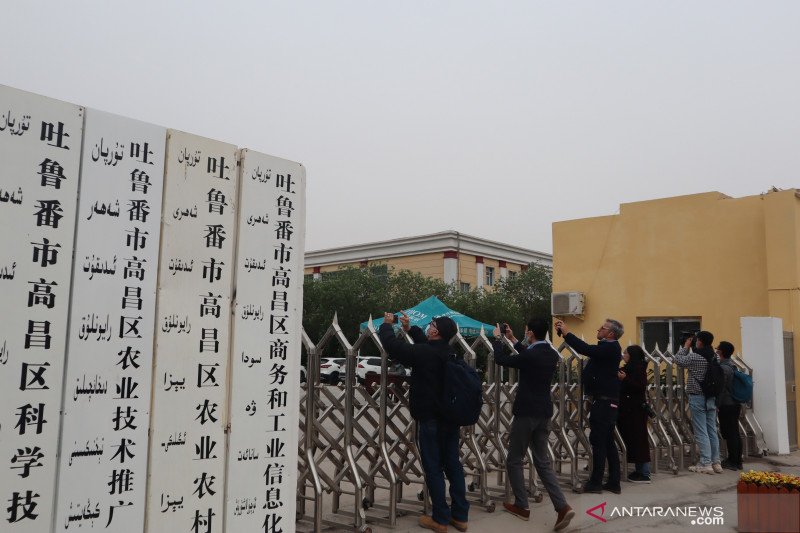 Foto : ANTARA FOTO/M. Irfan Ilmie/wsj
Several foreign journalists take pictures at a government office building in Xinjiang.
BEIJING, NETRALNEWS.COM - Ukraine's permanent envoy to the United Nations Human Rights Council (UNHRC) has withdrawn from a joint agreement on human rights abuse in Xinjiang, China.
On Saturday (06/26/2021), Beijing welcomed Ukraine's action in the 47th session of the UNHRC.
China's Ministry of Foreign Affairs (MFA) in Beijing said China had the support of 90 countries in the session.
"The attempts by some Western countries to accuse China of issues in Xinjiang, Hong Kong, and Tibet have again ended in failure," an MFA spokesperson said.
"This fully demonstrates that justice will always prevail. The attitude of some Western countries on interfering in China's internal affairs, suppressing and hindering China's development under the pretext of human rights is useless," the MFA spokesperson said in a statement.
The Chinese Ministry of Foreign Affairs considers that the Ukrainian Foreign Ministry has made a clear statement that it will not interfere in China's internal affairs.
"China welcomes the decision of the Ukrainian side which reflects the spirit of independence, respects the facts, and harmonizes the ideals of the United Nations Charter and the basic principles of governance of interstate relations," the MFA spokesperson said.
Beijing have been accused of violating human rights through a series of policies towards the Uighur Muslim ethnic minority in the Xinjiang Autonomous Region.
However, Beijing denies all the accusations under the pretext of improving the standard of living of the people who inhabit the Xinjiang region, as reported by Antara.
Reporter : turkhan
Editor : turkhan
Berita Terkait
Berita Rekomendasi