A Simple Recipe to Create Your Own Mentai and Nori Dim Sum
Selasa, 06-Juli-2021 19:00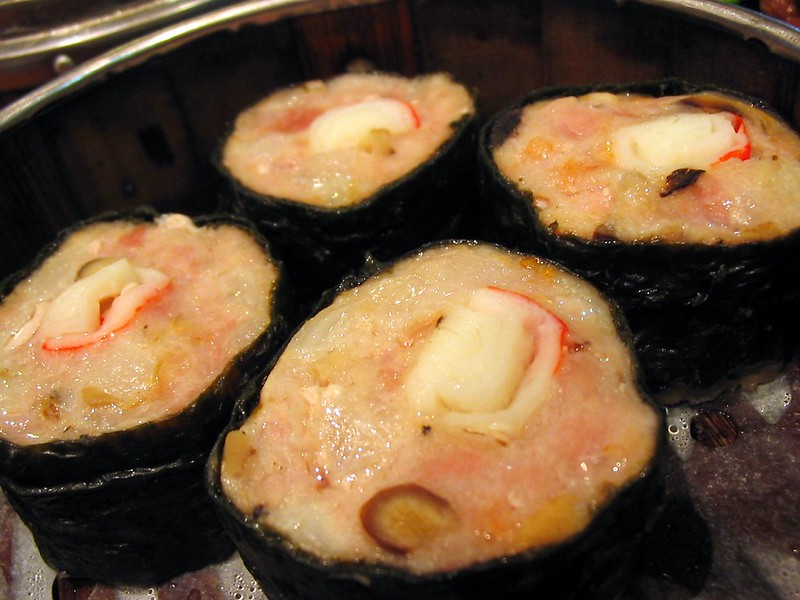 Foto : Flickr/Allan Reyes
illustration: Japanese dim sum
JAKARTA, NETRALNEWS.COM - Who doesn't like to eat dim sum? This one culinary small meal seems to be one of the favorite dishes of many people.
The taste of the meat used in dim sum is tender and savory, the size is right, and it's healthy because it's not fried.
Usually this one food can be enjoyed in various Chinese restaurants. However what if it's an Emergency PPKM situation where the malls are closed?
Don't worry. You can also make your own dim sum at home. In addition to filling more time at home, you can cook dim sum for your family at home who are working from home (WFH).
Curious about the ingredients and preparations to cook dim sum? Check out the various ingredients and steps to make the following mentai and nori dim sum a la Devina Hermawan:
Mentai Dimsum Recipe (for 4-5 servings)
Baca Juga :
Marinating ingredients (this step is optional):
- 100 gr chicken thighs, cut into small squares- 80 gr peeled prawns, cut into small squares
- 1 tsp salt
- 2 tsp sugar
- 1/2 tsp baking powder
Siomay dough ingredients:
- 150 gr grounded chicken thighs
- 1/2 tsp salt
- 1 tbsp sugar
- 1 tbsp garlic water
- 2 tsp ginger water, optional
- 1 egg white
- 4-5 tablespoons sago flour/tapioca flour
- 80 ml ice water
- 2 tsp oyster sauce
- 2 tsp sesame oil
- 1/2 tbsp soy sauce
- 1 tsp mushroom stock/seasoning
- 1/4 tsp pepper
- 3-4 tbsp canola oil or cooking oil
- 5 stalks of leek, the white part, chopped
- 75 gr shitake mushrooms
- Big seaweed / dimsum skin for wrapping
- Tobiko
- Dried parsley
Dynamite mayo:
- 7 1/2 tbsp mayonnaise
- 1 1/2 tbsp chili sauce
- 1 tbsp rice vinegar or 1/2 tsp regular vinegar
- 1 tsp sugar or sweetened thick
- 1/2 tsp mushroom stock or dashi
- 1/2 tsp tomato sauce
- 1 clove of garlic finely
- 3 pieces of chopped cayenne pepper
- Canola oil or cooking oil
Crispy Potatoes:
- 2 potatoes
- Canola oil
Preparation:
1. Put the chicken and shrimp into a bowl, add baking powder, salt, and sugar, stir, let stand for a while, then rinse with water, dry
2. Put in the ground beef, salt, and sugar, stir until fibrous, then add the garlic water, ginger water, mushroom broth, pepper, oyster sauce, sesame oil, soy sauce, egg white, and sago flour, mix well
3. Add ice water little by little, mix well
4. Heat canola oil or cooking oil, stir-fry the mushrooms and leeks until browned, let stand a few moments, then add them to the dim sum mixture, mix well, let stand for 30 minutes
5. Prepare the nori and dim sum skin, fill with 1 1/2 tablespoons of dough, trim
6. For sushi form, put the dough into the nori skin, roll it, then cut it
7. For the steamer container, grease it with a little oil, steam the dim sum for 10-12 minutes. If steamed cold it will take more time
8. For dynamite mayo, mix all ingredients into the mayo except the cayenne pepper, mix well
9. Heat a little canola oil or cooking oil, briefly stir-fry the cayenne pepper, then add it to the dynamite mayo sauce, mix well
10. For crispy potatoes, thinly slice the potatoes, rinse with water, dry, then fry in canola oil or cooking oil until golden yellow, drain
11. Remove the dim sum from the steamer, pour the dynamite mayo on top, then torch until browned, top with the tobiko, crispy potatoes, and dried parsley on top.
Reporter : turkhan
Editor : turkhan
Berita Terkait
Berita Rekomendasi