Indonesian Gov't Officials Give Positive Response to Briefer Application
Selasa, 09-November-2021 06:00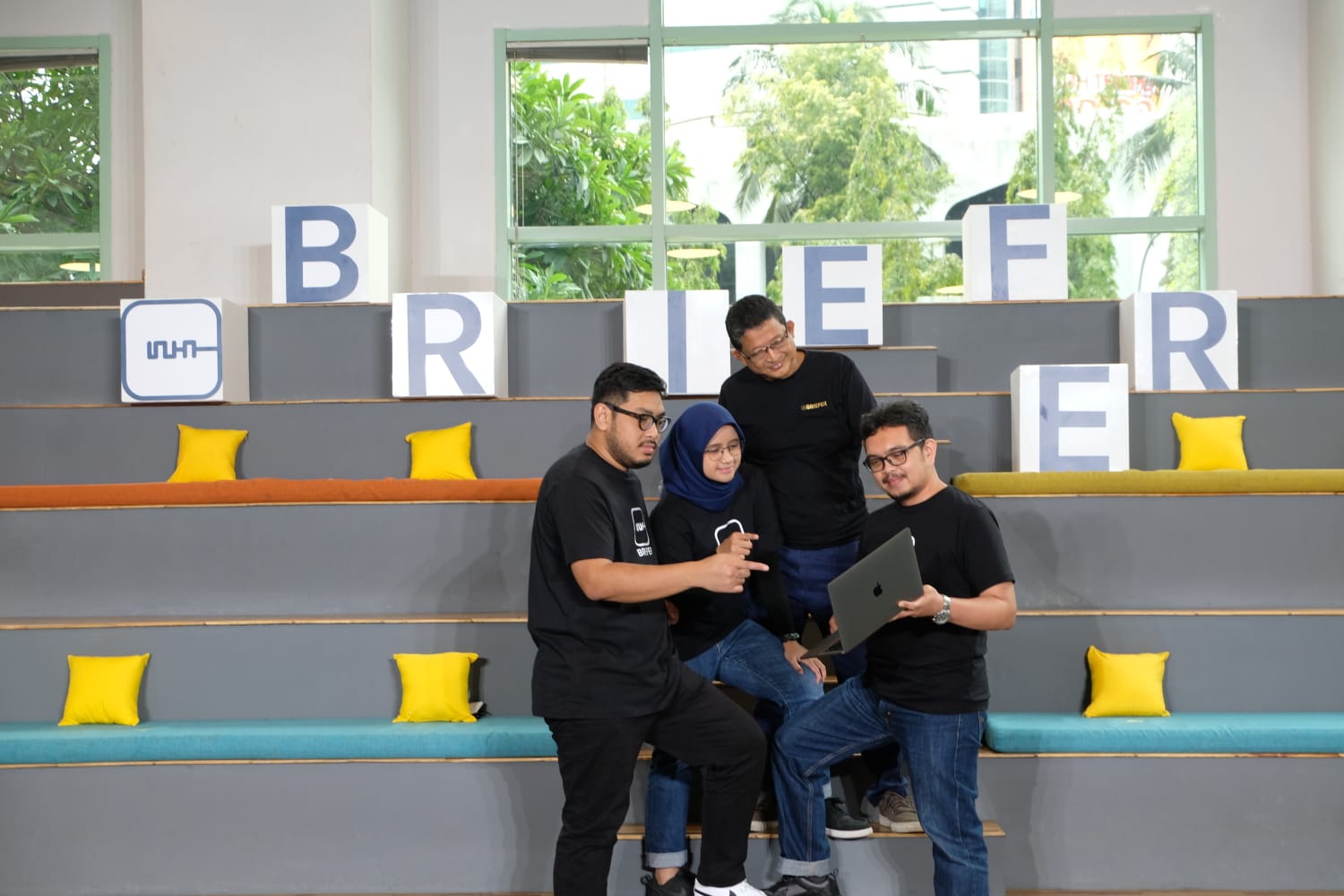 Foto : Special
The directors of Briefer.
JAKARTA, NETRALNEWS.COM - Briefer, a cloud-based communication collaboration platform in Indonesia, has received positive response from various figures in the Indonesian government and regulators in the financial industry.
The Minister of Trade, the Minister of Investment/Investment Coordinating Board (BKPM) and the Senior Deputy Governor of Bank Indonesia welcomed the presence of the Briefer, and assessed that this application could encourage the advancement of the creative and digital economy in Indonesia.
This was conveyed by Minister of Trade Muhammad Lutfi, Minister of Investment/Head of BKPM Bahlil Lahadalia, and Senior Deputy Governor of Bank Indonesia (BI) in the soft launching of the Briefer application.
"Hopefully the presence of Briefer can become a forum for SME players as well as communication and creative content activists to collaborate so that they can jointly advance the digital economy in Indonesia," said Trade Minister Lutfi.
With the fourth largest population in the world, according to the Minister of Trade Lutfi, Indonesia is currently undergoing a transformation to become the largest digital economy power in the world.
He projects that by 2030 the value of Indonesia's digital economy will reach IDR4,531 trillion, equivalent to 18 percent of domestic GDP.  Therefore, Lutfi continued, his office strongly encourages the presence and growth of new start-ups in Indonesia such as Briefer to become one of the backbones of the national digital economy.
On a separate occasion, Minister of Investment/Head of BKPM Bahlil Lahadalia also expressed the same hope for Briefer.  He hopes that this platform can be a digital meeting point for the collaboration of MSME players with the communication and creative industries in Indonesia.
Thus, the presence of Briefer can further increase the growth of the digital economy in the country.  "This is a platform that makes it easy for creative industry players who will raise their products from MSMEs themselves.  Hopefully it can generate and accelerate the digital and creative economy in Indonesia in the future," Bahlil said.
Meanwhile, Bank Indonesia Senior Deputy Governor Destry Damayanti said that the presence of Briefer was very interesting, as communication occurs rapidly in the digital era.  Briefer can be a place so that communication needs will be more precise and faster.
"I think the existence of this Briefer will be very helpful, not only in developing the ecosystem of all actors in the communications sector, but it will also make all transactions and developments of the communication industry more optimal," she said.
Launched by PT Kreasi Komunikasi Digital, a strategic unit of IGICO Advisory, Briefer is built on various operating systems.  This application allows practitioners to work with businesses, SMEs, organizations, and governments in various regions in Indonesia.
PT Kreasi Komunikasi Digital presents the Briefer application with the hope of encouraging the growth of sound communication management in the era of information technology disruption, and supporting the development of the digital economy in Indonesia.
Previously, Aditya Sani, Founder & Chief Executive Officer of Briefer, explained that the launching of this platform was a breakthrough effort and a new way of working in the digital era that is able to support and facilitate the dynamic needs of the communication industry.  Briefer provides a place for every communication actor, especially freelancers, to work with equal standards in an ecosystem.
"We see an imbalance in skills and work standards among freelancers in the communications industry, especially between big cities and secondary areas, which has an impact on the economic welfare of the actors.  We are here to answer these problems and challenges by developing appropriate technology, and collaborating with those who have special experience and specialization in the field of communication from various regions to meet the needs of SMEs, businesses, organizations, and governments," said Aditya.
Briefer is designed for communication practitioners who focus on public relations, brands and other related expertise.  This application is built using several layers of hybrid technology that allows the management of applications based on Android, iOS and web to be carried out simultaneously.
By listening to various aspirations from industry players, at this early stage, Briefer introduces five communication products, namely making press releases or articles, monitoring media, organizing webinars or virtual events, looking for videographers/photographers and talents to support organizing events.
About Briefer
Briefer is a collaboration platform for practitioners in the communications industry that focuses on public relations, brands and other related communications industries.
Briefer.id is a strategic unit of IGICO Advisory, a communication management consulting service company that is building collaboration with various parties to foster healthy communication management in the digital era.  
Through Briefer.id, IGICO Advisory hopes to build cross-stakeholder collaboration in a healthy, credible, comprehensive, and effective communication ecosystem.
Reporter : turkhan
Editor : turkhan
Berita Terkait
Berita Rekomendasi