Social Affairs Ministry Collaborates with National Library to Establish Digital Reading Corner
Selasa, 30-November-2021 16:00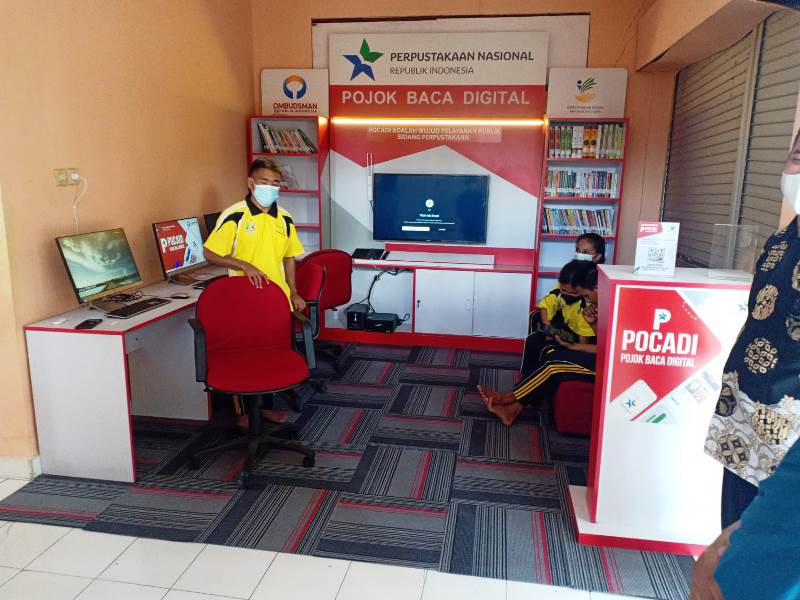 Foto : Indonesian Ministry of Social Affairs
Social Affairs Ministry Collaborates with National Library to Establish Digital Reading Corner
KUPANG, NETRALNEWS.COM - The efforts of the Indonesian Ministry of Social Affairs to improve literacy culture are carried out by cooperating with the Indonesian National Library (NLI) by establishing Digital Reading Corner (Pocadi) in 41 centers throughout Indonesia.
Earlier, Minister of Social Affairs Tri Rismaharini and Head of the Indonesian National Library Muhammad Syarif Bando signed a Memorandum of Understanding (MoU) on Thursday, September 23, 2021, to continue developing Pocadi.
The scope of Pocadi's cooperation includes fostering, developing, evaluating and coordinating the management of libraries for the implementation of the social welfare of the Beneficiary Recipients (PM) in the Ministry of Social Affairs.
In addition, Pocadi is also a model library with digital book format (e-books) and printed book services, which are expected to encourage an increase in literacy culture in centers owned by the Ministry of Social Affairs and the surrounding communities.
The advantage of Pocadi is that it uses the concept of a digital library in building user interaction through features in the iPusnas application for borrowing, reading or sharing collections and information.
Through the iPusnas feature, borrowing and reading digital books and discussing between readers can be carried out by beneficiaries and employees of the Ministry of Social Affairs anywhere, anytime without space and time limits.
The head of the Kupang Efata Center, Wahyu Dewanto, appreciated the presence of Pocadi to increase the literacy of beneficiaries, employees and residents around the hall.
"According to the direction of the Social Affairs Minister with the presence of Pocadi, we will maximize the literacy of beneficiaries, employees, students and residents around the hall," said Wahyu at the Kupang Efata Center when receiving a visit from the Ministry of Social Affairs' Public Relations team and National Library resource persons, some time ago.
Misbahul Ilmi, resource person from the National Library of Indonesia, explained the importance of increasing literacy in accordance with the direction of the Indonesian President so that the public has broad knowledge and insight to support national development.
"The National Library of Indonesia is committed to supporting Pocadi in 41 centers belonging to the Ministry of Social Affairs and we are here to provide an introduction to Pocadi operations so that they can be utilized as well as possible," said Misbahul Ilmi.
Indonesia's geographical area is very broad, it is hoped that Pocadi will become a 'lantern' in the community, as well as being able to support entrepreneurial skills, such as raising chickens, growing vegetables, making compost and so on, the results of which can be sold at Attention Creation Centers (SKA) in 41 centers.
Some Pocadi equipment such as 3 units of all-in-one computer, 3 units of computer desk and chair, 1 unit of stabilizer, 2 units of tablet with simcard, 1 unit of 43-inch television with antenna and data processing equipment, 1 unit of sofa, carpet, pulpit-like table 1 units, and 1 shelf unit complete with quality books as well as popular themes, are prepared in each center.
Reporter : turkhan
Editor : turkhan
Berita Terkait
Berita Rekomendasi