Social Affairs Ministry Provides 428 Assistive Devices to People with Disabilities in West Java
Rabu, 08-September-2021 11:00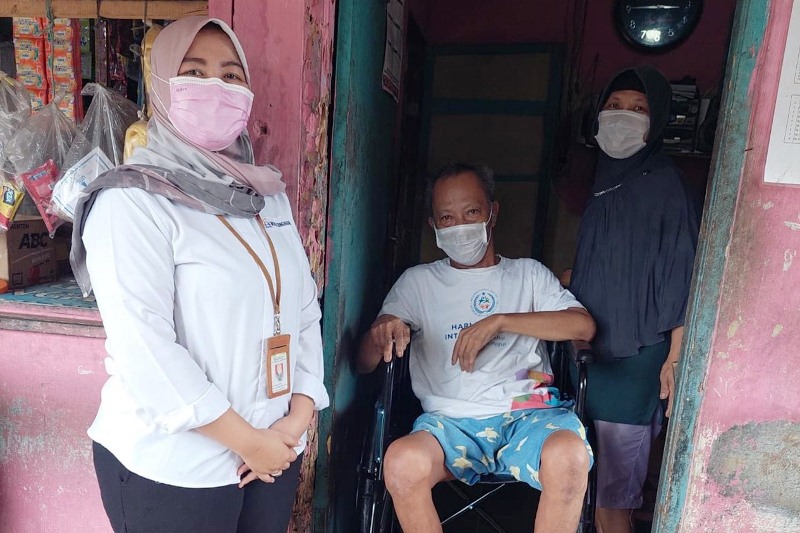 Foto : Indonesian Ministry of Social Affairs
Representatives of theSocial Affairs Minisry delivery a wheelchair to a person with disability in Cibinong
CIBINONG, NETRALNEWS.COM - Persons with disabilities are part of a vulnerable group. In daily life, they often face difficulties in carrying out daily activities due to their limitations.
Indonesian Minister of Social Affairs Tri Rismaharini, also known as Risma, has emphasized the commitment of the Ministry of Social Affairs to improve the welfare of all people, including people with disabilities. In accordance with Article 23 of Law No. 8 Year 2016, persons with disabilities have the right to live independently where assistive devices are used for personal mobility and ease of access. Therefore, the provision of assistive devices for persons with disabilities is an obligation that must be fulfilled by the state.
"Since the beginning of 2021, the Ciungwanara Center has received applications for various types of assistive devices for people with disabilities," said Head of the Ciungwanara Center, Siti Sari Rumayanti, when met in Cibinong, as in a written statement received by Netralnews, on Wednesday (09/08/2021).
A total of 428 assistive devices for people with disabilities were distributed by the Ministry of Social Affairs through the Ciungwanara Bogor Center, including wheelchairs with various types tailored to the needs of users, hearing aids, white canes, braille whiteboards, reglet and pens, and standing frames.
Siti said that applications for assistive devices for persons with disabilities came from the City/Regency Social Services Office, foundations for persons with disabilities, and individuals in West Java Province.
"We are trying so that people with disabilities who are in the coverage area of ​​the Ciungwanara Center can access their right to assistive devices," she said.
One of the recipients of the aid is Darna, an elderly stroke patient who lives in Cilebut Village, Bogor Regency. Based on the assessment of the Ciungwanara Center's social worker, Darna needs a wheelchair to facilitate his personal mobility.
"With this wheelchair, Mr. Darna's mobility can be easier. Mr. Darna can also use the wheelchair to sunbathe in the morning," said Siti.
A happy hue radiated from Darna's face, who was very enthusiastic when he tried to sit in a wheelchair. He even refused to come down from the wheelchair when his wife asked him to because Darna wanted to sit in the wheelchair longer.
On this occasion, Darna's family was also given an understanding of how to care for the sick elderly by the Social Worker of the Ciungwanara Center. Darna's family expresses gratitude for all the assistance provided by the Ciungwanara Center.
"Hopefully, the wheelchair can help motivate Darna to be healthier," Darna's wife said. 
Reporter : turkhan
Editor : turkhan
Berita Terkait
Berita Rekomendasi