Social Affairs Ministry Responds Quickly to Aid Children Who Lost Parents to COVID-19
Jumat, 06-Agustus-2021 17:50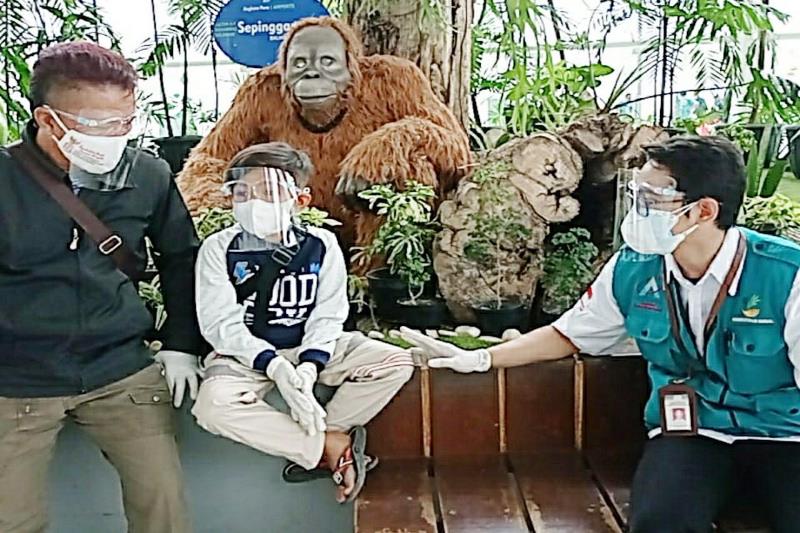 Foto : Indonesian Ministry of Social Affairs
Social Affairs Ministry Responds Quickly to Aid Children Who Lost Parents to COVID-19
JAKARTA, NETRALNEWS.COM - The COVID-19 pandemic has created many changes in various aspects of life today, including for children. In addition to the fear of being exposed to COVID-19, children also often have the potential to lose their closest people who died from COVID-19.
This makes many children end up having to become orphan.
Based on data from the COVID-19 Handling Task Force as of July 20, 2021, it is known that 11,045 children have become orphans. On the other hand, the number of children exposed to COVID-19 reached 350,000 children, and 777 children have died.
The level of risk of COVID-19 exposure among children is significantly high. Therefore, the Indonesian government has set a policy to expedite vaccination for children aged at least 12 years.
Indonesian Minister of Social Affairs Tri Rismaharini explained that the Ministry of Social Affairs, through the Social Rehabilitation Centers and Social Rehabilitation Assistants, had received reports regarding children by name by address due to the abandonment of their parents who died due to exposure to COVID-19.
The latest data by name by address from the East Java Social Work Service Unit (Sakti Peksos) shows that there are 166 children who currently have lost their parents due to COVID-19.
Of these 12 children have lost both parents, 58 children lost their mothers, and 89 children lost their fathers, while eight children are currently being confirmed. These children are spread across seven districts/cities in East Java.
Meanwhile in Yogyakarta, there were 142 children who either lost their mother, father, or both parents. It was also reported that as many as 10 people out of 105 pregnant women who died due to COVID-19.
"So far, accurate data by name by address regarding orphans whose parents died due to exposure to COVID-19 are still being collected by our team on the ground. However, the assistants have also carried out case responses for these children," said Tri Rismaharini, also known as Risma.
Social Affairs Minister Risma said that the response to the children was carried out as quickly as possible and at the first opportunity.
In addition to efforts to collect data and respond to cases for children who have lost their parents due to COVID-19, the Ministry of Social Affairs has also provided direct support through the Social Rehabilitation Assistance Program (ATENSI) which includes the fulfillment of children's basic needs, such as assistance with medicines, vitamins, swab tests, PCR, vaccinations and other basic needs of children, including providing counseling to children and their families.
Furthermore, to prevent children from losing their right to care, the Ministry of Social Affairs has also reunified children with their extended families, facilitating alternative care through foster care, guardians/adoption of children, and child care through orphanages.
Yesterday, the Ministry of Social Affairs had reunified a child named Vino (10) who lives in West Kutai, East Kalimantan, with his extended family. Vino became an orphan because his parents died from COVID-19.
Accompanied by the Social Work Service Unit (Sakti Peksos) and the Emergency Response Team of Budi Luhur Center Banjarbaru, along with the local Social Service, Vino was successfully picked up by his grandfather who came from Sragen to be cared for by his extended family.
Not only in West Kutai, until now the Ministry of Social Affairs has responded quickly to children whose parents died from COVID-19, including in Kutai Kartanegara, Samarinda, Sukoharjo, Purwakarta, Bekasi and Muna Regency, Southeast Sulawesi.
"Furthermore, it is possible that we will also respond to children in other areas according to the reports received," said the Minister of Social Affairs.
Other support provided by the Ministry of Social Affairs is to help large families of children to overcome difficulties in raising children. In addition, therapy services through ATENSI in the form of physical, psychosocial and mental spiritual therapy are also provided to children to overcome feelings of sadness due to the loss of their parents due to Covid-19 and revive their enthusiasm to continue their life.
Finally, the Ministry of Social Affairs also seeks to provide accessibility support to help children to access other needs.
"In the future, we plan to carry out activities to handle the impact of COVID-19 on children who have lost their parents due to COVID-19. Of course, this activity will involve the cooperation of related institutions/agencies such as NGOs and the government sector who are responsible for handling this," Risma added.
Reporter : turkhan
Editor : turkhan
Berita Terkait
Berita Rekomendasi